LP REVIEW: everybody's favorite garage sale find, with Ella Fitzgerald, The Rogers and Hart Songbook (1977)
VERVE 2LP SET, GATEFOLD SLEEVE, STEREO 2632070, BRAZILIAN RE-ISSUE 1984 (ORIGINAL 1977, VERVE VE-2-2519)
ARTIST
I literally have no idea where to start with Ella Fitzgerald (1917-1996), a.k.a 'the first lady of song' or 'the queen of jazz' or just 'Lady Ella'. She was larger than life, so incredibly famous, won 14 Grammy awards and is omnipresent in the musical repertoire that is jazz, TV, movie and American popular song. In fact, you just have to look at her massive wikipedia entry or check out this more readable biography. She was an amazing and unique talent.


LABEL
In RPJR#7 I wrote about the Verve label so I will refer you to that article. These types of Verve albums are pretty good, they are somehow ubiquitous and you can usually find them at bargain bin prices. They must have pressed hundreds of thousands of them worldwide. This one is a Brazilian pressing. The record was originally mastered by Bob Ludwig when he was at Masterdisk, so a top name in the recording industry.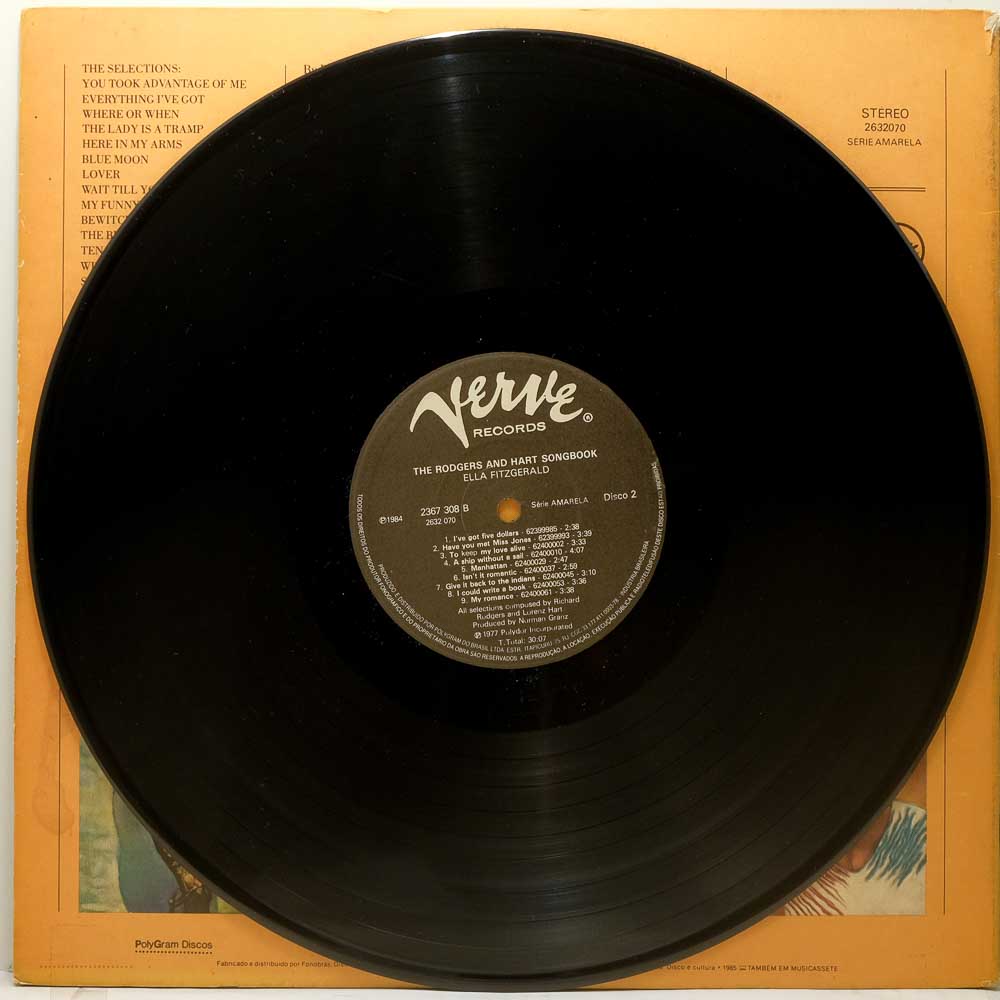 MUSIC
This album was inducted into the Grammy Hall of Fame in 1999 for its "qualitative or historical significance." In 2000 it was voted number 642 in Colin Larkin's All Time Top 1000 Albums.
Ella's rendering of these songs is the gold standard. The orchestra is top notch as well, swinging, supportive, with a wide-ranging big band sound and together they create a nostalgic place. There is no doubt about the quality and importance of these songs and performances.  Personally, I have moved on from this type of music – I can no longer sit through four sides of these songs (if you promise not to tell anyone, I will admit that I did not even make it through side one ;-o. Timeless music? I don't know. It sounds very dated (the fifties) to me now. This hobby is very subjective – it's just my opinion, so let me say this; if you've never listened to this, I encourage you to give it a try … Lady Ella was a gem.
All these tunes are pretty famous and you can find them all over youtube. You can sample the feel of the music with the cut 'Manhattan':
RAW MUSIC STORE
This album is available online at the RAW MUSIC STORE site for 60AED.
PERSONNEL
Ella Fitzgerald, vocals
The Buddy Bregman Orchestra – consists of the following members:
Al Hendrickson, Alvin Stoller, Arthur Herfurt, Barney Kessel, Bob Cooper, Bud Shank, Buddy Bregman, Chuck Gentry, Claude Williamson, Conrad Gozzo, Conte Candoli, Corky Hale, Dale Issenhuth, Dan Lube, Dorothy Remsen, Edgar Lustgarten, Eudice Shapiro, Francis Howard, Frank Rosolino, George Roberts, Harry Edison, Herb Geller, Jerome Kasper, Jimmy Giuffre, Joe Howard, Joe Mondragon, John Altwerger, Lloyd Ulyate, Lou Raderman, Manny Klein, Marshall Cram, Maurice Stein, Maynard Ferguson, Milt Bernhart, Paul Smith, Pete Candoli, Raphael Kramer, Ray Linn, Shelly Manne, Si Zentner, Stan Getz, Ted Nash, Uan Rasey, Virginia Majewski – some famous names in there, most had successful solo or band leader careers who (in bold)
TRACKS
A1 You Took Advantage Of Me
A2 Everything I've Got
A3 Where Or When
A4 The Lady Is A Tramp
A5 Here In My Arms
A6 Blue Moon
A7 Lover
A8 Wait Until You See Her
A9 My Funny Valentine
B1 Bewitched
B2 The Blue Room
B3 Ten Cents A Dance
B4 With A Song In My Heart
B5 Spring Is Here
B6 This Can't Be Love
B7 Thou Swell
B8 Little Girl Blue
C1 Johnny One Note
C2 I Wish I Were In Love Again
C3 It Never Entered My Mind
C4 Dancing On The Ceiling
C5 There's A Small Hotel
C6 My Heart Stood Still
C7 Mountain Greenery
C8 I Didn't Know What Time It Was
D1 I've Got Five Dollars
D2 Have You Met Miss Jones
D3 To Keep My Love Alive
D4 A Ship Without A Sail
D5 Manhattan
D6 Isn't It Romantic
D7 Give It Back To The Indians
D8 I Could Write A Book
D9 My Romance