LP REVIEW: re-living the Harlem renaissance with KID ORY AND JIMMIE NOONE, NEW ORLEANS JAZZ
OLYMPIC RECORDS, GOLD MEDAL COLLECTION 7109, US ISSUE 1975, RECORDED IN LOS ANGELES IN 1944
ARTIST
Totally new names for me, Kid Ory and Jimmy Noone (actually, it's Jimmie). Let's dig in. We start with who was Kid Ory.
Edward Ory was born on Christmas Day 1886 on a sugar plantation in LaPlace, Louisiana, close to New Orleans. Starting on homemade instruments he graduated to banjo and finally valve trombone.
Ory once hired a young and upcoming lad who went by the name of … Louis Armstrong :-). He bought him a cornet and gave him his first professional job. Later on in his career, Amstrong said of Ory, he is "The Greatest Slideman Ever Born". By mid-1922 Ory made the first jazz record by an African-American band. If you like you can read a comprehensive biography on the Stanford University website.
Jimmie Noone was an American composer, clarinetist, and bandleader who lived between 1895 and 1944. Classical composer Maurice Ravel once said that his famous Boléro was based on an improvisation by Noone! Noone is generally regarded as one of the greatest of the second generation of jazz clarinetists, along with Johnny Dodds and Sidney Bechet. 
LABEL
As far as I could ascertain Olympic Records only released about 62 records. There is not a lot of information available online about this label. They came up in a period that is known as 'the Harlem renaissance' – which was a period of great innovation in jazz, but also one of political, social, and racial awareness, roughly spanning the early 1900s, to fully developing during the 1920s and 1930s.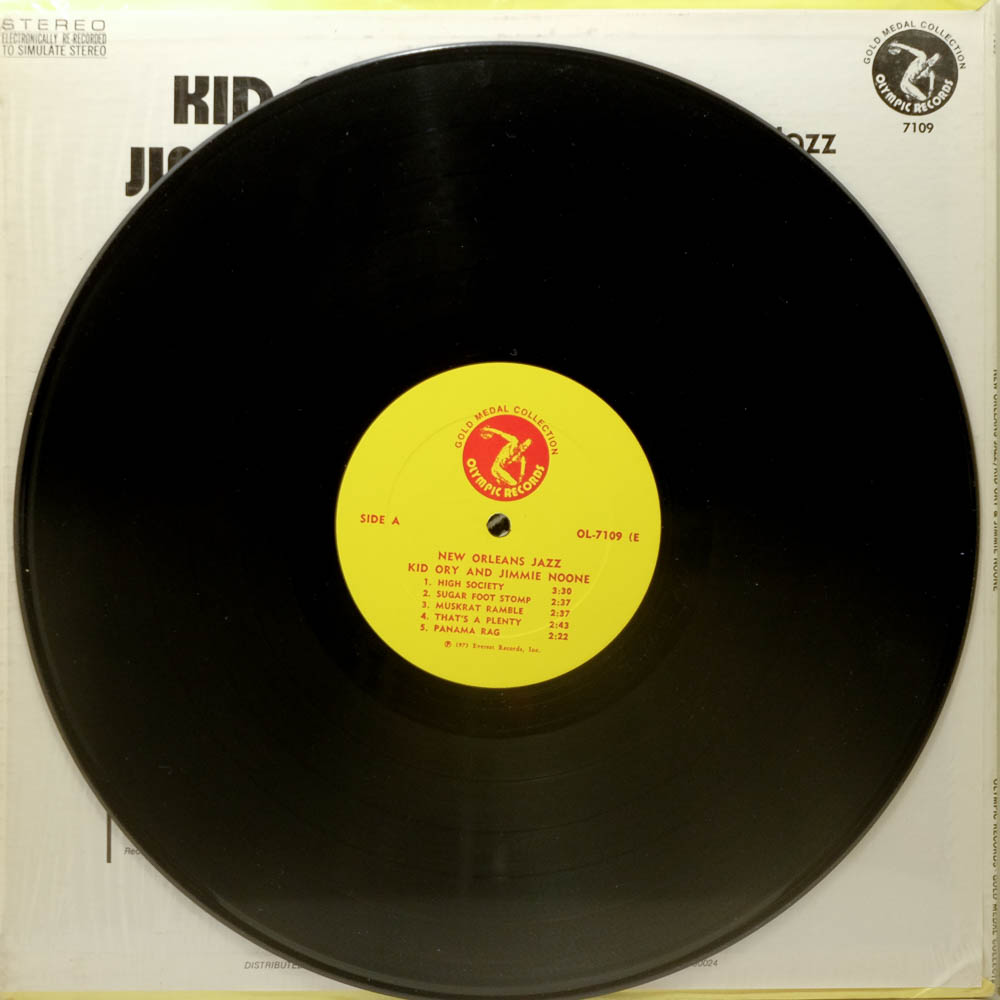 A lot of musicians, specifically black jazz musicians, came up through the ranks during this period. Artists like Duke Ellington, Cab Calloway, Fats Waller, Billie Holiday, and many others, were able to jumpstart their careers. Due to the immense popularity of many Harlem Renaissance musicians, jazz clubs began to open across Harlem. The most famous is the Cotton Club. If you want to dig a little deeper into this fascinating time, I found an excellent article here.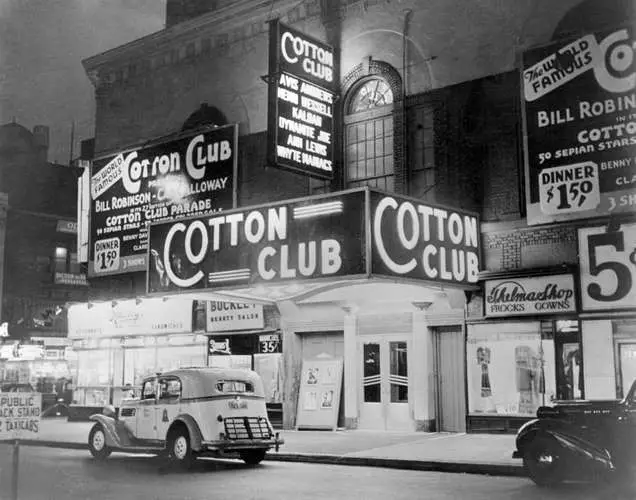 MUSIC
These early recordings (1944) were done in mono and when the label re-issued them in the seventies they 'electronically re-recorded to simulate stereo'. Not sure that was the best idea, but I guess marketing demanded it in those days. This sounds best in mono in my view.
When you listen to these albums, you are witnessing jazz history – they are not so much about sound quality as they are about the quality and style of the playing. Listening to this music gives you a foundation and an insight into the way jazz music was developing over time. You can hear the Ragtime of 1890s, the Charleston of the 1920s, the Big Band sound of the 40s and '50s, and at times they sound like a marching band going through the streets of New Orleans.
This is great music and I find that after a while, your ear gets used to the old scratchy sound and you start appreciating the musicianship, the melody lines, the joy, and the swing of things. Imagine having these guys at a party! They would bring the house down.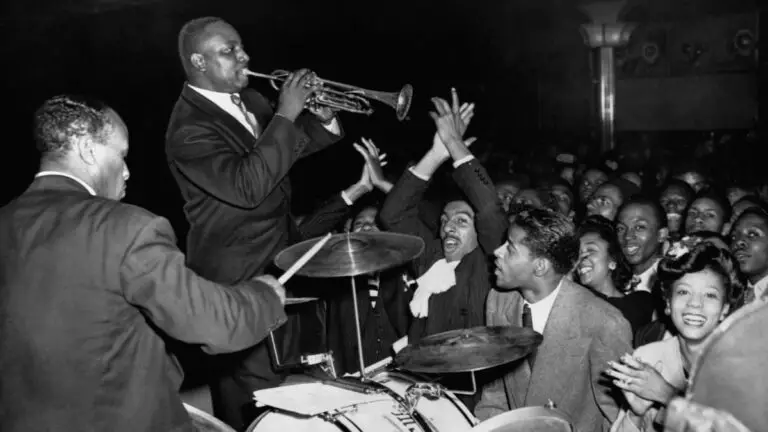 I could not find the entire album on youtube, but one of the tracks 'Jimmie's Blues' provides you with a great intro to his music. (Not Jimmy's Blues, you see, his name was misspelled on the sleeve. Even the label on the vinyl says 'Jimmie' – I like spotting these little errors 🙂
RAW MUSIC STORE
The album is available for 60 AED on the RAW MUSIC STORE website.
PERSONNEL
Bass – Ed Garland
Clarinet – Albert Nicholas (tracks: B5), Barney Bigard (tracks: B2, B3), Jimmie Noone (tracks: A1, A3 to A5), Joe Darensbourg (tracks: B4), Wade Whaley (tracks: A2, B1)
Drums – Orson Welles (2)
Guitar – Bud Scott
Piano – Buster Wilson (tracks: A1 to B3, B4?), Ed Washington (2) (tracks: B4?), L. Z. Cooper
Trombone – Kid Ory
Trumpet – Mutt Carey
[NOTE JW: not sure this is 100% correct, but it's the best I could find]
TRACKS
A2 Sugar Foot Stomp 2:37
A3 Muskrat Ramble 2:37
A4 That's A Plenty 2:43
A5 Panama Rag 2:22
B1 Jimmie's Blues 4:22
B2 Savoy Blues 2:10
B3 Weary Blues 2:39
B4 Creole Song2:04
B5 Blues 1:58