LP Review: the man who pioneered the jazz trio, Bud Powell – '57 (1955) MONO
VERVE 1981, JAPAN MONO RE-ISSUE UMV 2571, ORGINALLY ON NORGRAN RECORDS MG N-1017 (1955)
Artist
Earl Rudolph "Bud" Powell (1924 – 1966) was born in New York City. He was one of the most influential pianists in the history of jazz.
Along with Charlie Parker (sax) and Dizzy Gillespie (trumpet) he was largely responsible for shaping the development of bebop or bop, a term used to describe what was essentially the small form jazz band. As an aside, I remember that Miles `Davis once famously said "Bebop? That's a word invented by white people." Miles was never one to mince words.
Remember that most jazz in the early part of the 20th Century was played by big bands – orchestra's made up of 10-25 people – and was meant to be dance music. The word "bebop" does not mean anything. It came from a word that singers sometimes used in improvised singing. I don't know why it was adopted to describe a new form of jazz. I guess the word just stuck and we shouldn't read too much into it. Miles was right 🙂
Musically, in bebop the emphasis switched from the bass drum to the cymbal, which expanded the role of other instruments. This opened up jazz to more blues influences with extended solo's, improvisation and an interplay that demanded great knowledge of musical structure and a different level of technical prowess.
In 1945, at age 20, Powell was already thought of by his peers as a great pianist. Powell's life was not untroubled. Once he took a nasty beating by police in an attempt to protect his best friend and mentor Thelonious Monk – an incredible jazz pianist with a unique style – from harassment. The effects of this incident stayed with him and he suffered from mental illness and alcoholism throughout his life. He died penniless and largely in obscurity in a hospital in Harlem on 9 August 1966. Unfortunately not an uncommon fate for many of the wonderful jazz musicians we now revere. He left us an amazing musical library and much music to discover and enjoy.
Label
Verve Records was such an important label, they brought Jazz – America's 'classical' music and truly an original art form – into homes all over the world.
Verve was founded by Norman Granz in 1956, combining the catalogues of his earlier labels, Clef Records (founded in 1946), material from Mercury and Norgran Records (founded in 1953). This is also how our review record, which originally came out on Norgran, made it onto the Verve label. In 1961 Granz sold Verve to MGM for $3 million. You can read an article about its rich history here.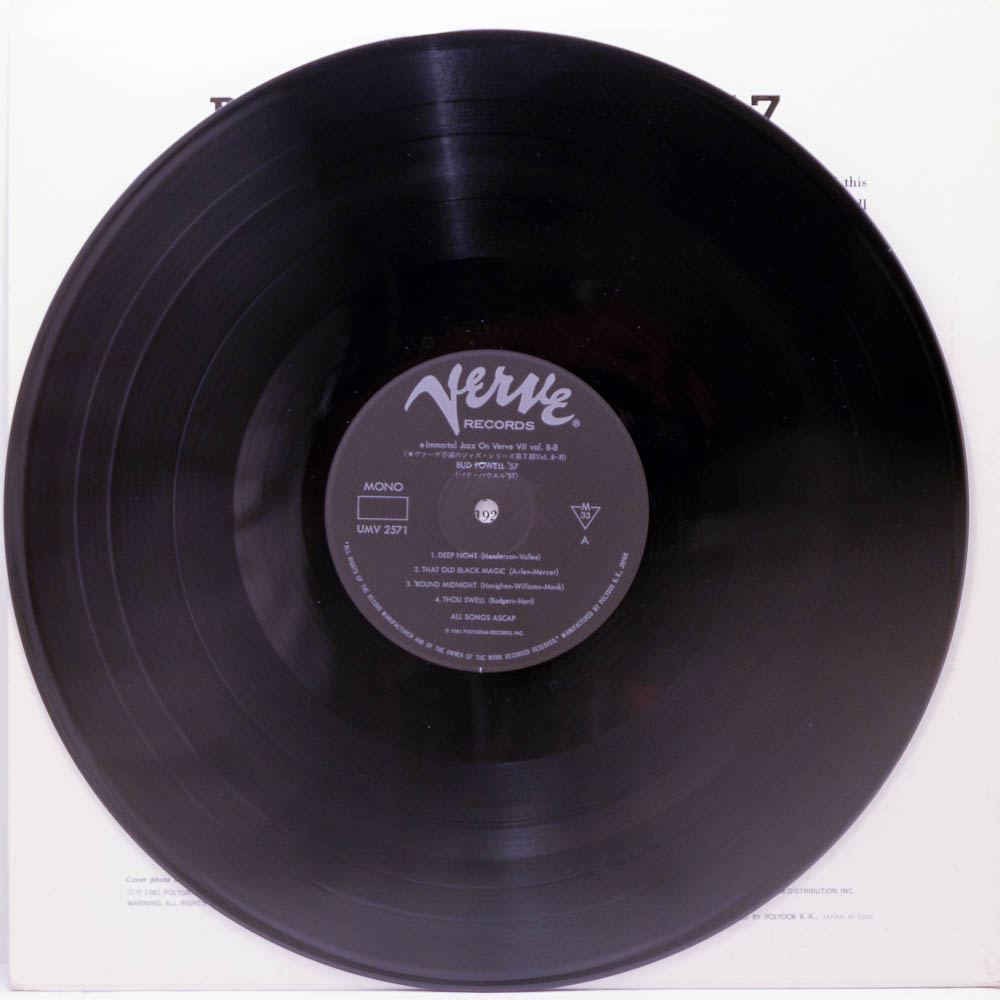 Music
What is the difference between European and American (piano) jazz ? In RPJR#6 I reviewed Tete Montoliu, a Spanish (Catalan) piano player. He sounds different of course, but it goes a little deeper than simply different people/different styles. I think the Europeans are generally informed by a deep intellectual understanding of the music and the construction of it. The Americans have that blues history which shines through in the way they sound and play. I am generalizing of course, but I think it works as a framework to understand the two approaches.
Bud Powell is such an original. He comes up with surprising ways to create the melodies and piano lines and listening to him is just a pleasure. Never a dull moment and the overall feel of the playing is upbeat and swinging. People like Powell stood at the beginning of the small jazz band revolution and they changed the role of the piano in a band and with that they created a new genre of music. Remember, we are talking the 1940's here.
This particular record is a great listen, but I must also note that the tunes are mostly standards and there is so much more to Powell's playing than this set of 9 standards, you cannot just stop here and have this as your only Bud Powell record. It alone does not give you the range of the man's talent. Fortunately that means, if you do decide to start here, you have much more music to discover in the Powell discography….
Listen for yourself:
RAW Store
The record is available online and in the RAW Music store. Overall the record and cover are in excellent shape. I discussed this with Sam from the RAW Music Store just the other week – it's amazing the shape some of these Japanese records are in. I mean, this thing is 41 years old! There's hardly a scratch on it. And it's only 60AED 🙂
Soundwise this is typical of the era and not audiophile material – if you want that, look for Blue Note's Classic and Tone Poet series in the RAW Music Store's jazz bins – but it gets the message across well enough. It's good old fashioned Mono sound (everything lined-up in the middle between your speakers). For such a piece of Jazz history, it seems a bargain to me …
Tracks
A1 Deep Night – (Charles E. Henderson, Rudy Vallée) – 3:44
A2 That Old Black Magic – (Harold Arlen, Johnny Mercer) – 2:20
A3 'Round Midnight – (Thelonious Monk) – 5:08
A4 Like Someone in Love – (Jimmy Van Heusen, Johnny Burke) – 1:59
B1 Thou Swell – (Richard Rodgers, Lorenz Hart) – 4:25
B2 Someone to Watch Over Me – (George & Ira Gershwin) – 2:28
B3 Lover Come Back To Me – (Coleman Hawkins) –3:28
B4 Tenderly – (Walter Gross, Jack Lawrence) – 3:20
B5 How High the Moon – (Morgan Lewis, Nancy Hamilton) – 4:16
Personell
Drums – Art Blakey (tracks: A4, B2 to B5), Art Taylor (tracks: A1 to A3)
Piano – Bud Powell
Bass – Lloyd Trotman (2) (tracks: A4, B2 to B5), Percy Heath (tracks: A1 to A3)