LP REVIEW, the duality of the theological rock star, with George Harrison – Living In The Material World (1973)
APPLE RECORDS, 1973, JAPAN ISSUE, EAP-80840, STEREO, GATEFOLD, Manufactured By Toshiba Musical Industries Ltd.
ARTIST
If you do not know who George Harrison was (1943 – 2001), I am not sure what to tell you … 🙂 I will just post a picture of him at the time of this record.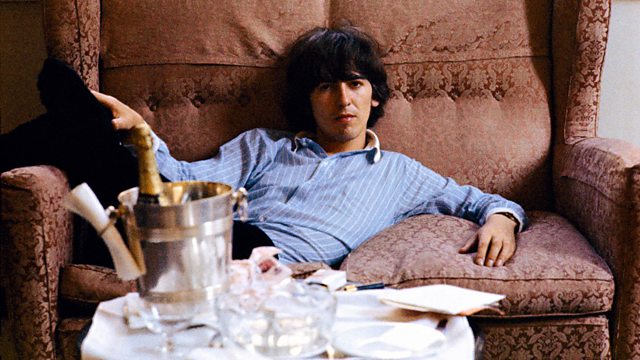 Actually, the best thing would be just to watch the two-part documentary made by Martin Scorcese in 2011. Part 1 you can check out HERE and Part two HERE (both on youtube).
LABEL
The famous Apple company was owned by the Beatles. They launched its record label – Apple Records – in early 1968. For over 35 years Neil Aspinall ran the label on behalf of the Beatles and their heirs. He retired in 2007 and was replaced by Jeff Jones.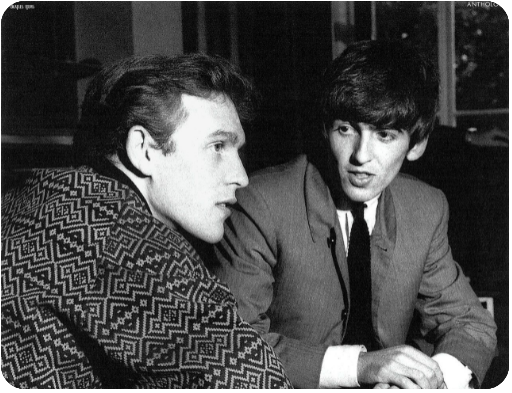 Especially in the beginning, most of the label's artists were the ones the Beatles personally discovered or supported. In most cases, one or more of the Beatles were involved in the recording sessions. Artists included James Taylor, Mary Hopkin, Billy Preston, the Modern Jazz Quartet, the Iveys (later known as Badfinger), and others.
In 1970, Rolling Stones manager Allen Klein took over the running of Apple. He dropped most of the artists. Following the breakup of the Beatles, Apple's releases were dominated by the individual Beatles' solo material.
After Klein's contract was up in 1973, Apple Records focussed on the Beatles' back catalog and solo pursuits of the Fab Four. Even though Apple stopped recording and releasing new music, the granny smith remains an icon.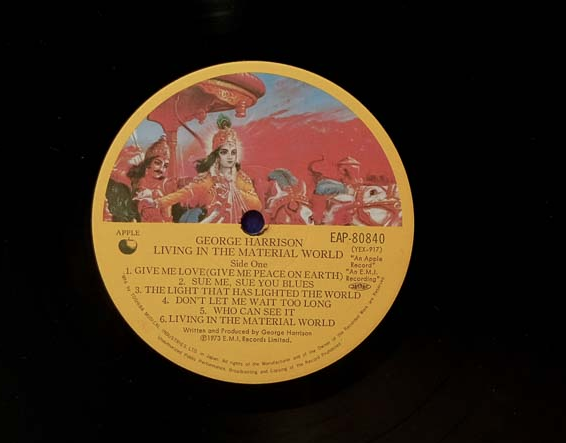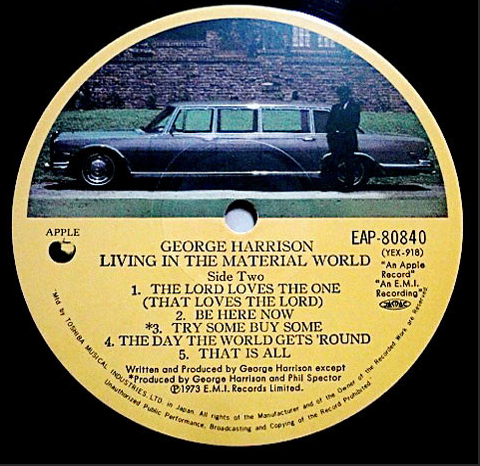 KNOWLEDGE NUGGETS
/1\ George Harrison donated the copyright for most of the songs to his Material World Charitable Foundation.
/2\ This – his 4th studio album – and its lead single Give Me Love, reached no. 1 in America and no. 2 in the UK. It sold >3 million copies worldwide.
/3\ The front-cover image is a so-called Kirlian photograph of Harrison's hand holding a Hindu medallion. The back shows Harrison holding three US coins, two quarters, and a silver dollar. It reflects the struggle between his wish to achieve spiritual enlightenment and the reality of his superstar status. This symbolism continues with the other pictures used on the album's inner sleeve and labels.
MUSIC
Not necessarily a huge Beatle fan myself, George Harrison was always 'my favorite Beatle', not least because he penned what I believe to be one of the most beautiful songs ever written, While My Guitar Gently Weeps – I think this appeared first on The White Album (1968).
The album I am reviewing here has a lot of intricate melodies and instrumentals underpinning Harrison's vocals. Trying to describe his vocals with a few words, I am thinking about pining, yearning, earthy, and honest. His spiritual journey is well documented and this album plays a part in that.
Six of the album's eleven tracks are ballads which makes for a varied menu of uptempo and more laid-back cuts. They are all strong songs – in my view, there are no 'fillers' on this LP.
The guitar and specifically his dobro playing lend tremendous atmosphere to this record. On earlier records, he relied on Eric Clapton and Dave Mason for much of the guitar playing, but here it's him alone doing the string work and I think it's great. In addition, there is a major role for piano and keyboards which enriches the sound overall.
The album's lyrics sparked much debate amongst critics, some despising it, others hailing it as a revelation. Sidestepping this debate for these pages, let me put it this way, it did not distract me from the musical message.
In summary, the fact that this album holds up over time – it's now 50 years old – is a testament to its quality. It's a great piece of music. If you are interested in what the pros thought of it in 1973, click here to read the RollingStone review.
YOUTUBE LINK
You can listen to the full album here:
RAW MUSIC STORE
The album is available on the RAW MUSIC website for 80AED. It's a really nice package with the gatefold sleeve, obi-strip, orange paper inner sleeve, 4-page lyrics folder & 12-page Japanese lyrics/discography booklet. And it sounds great.
PERSONNEL
George Harrison – lead and backing vocals, electric and acoustic guitars, dobro, sitar
Nicky Hopkins – piano, electric piano
Gary Wright – organ, harmonium, electric piano, harpsichord
Klaus Voormann – bass guitar, standup bass, tenor saxophone
Jim Keltner – drums, percussion
Ringo Starr – drums, percussion
Jim Horn – saxophones, flute, horn arrangement
Zakir Hussain – tabla
John Barham – orchestral and choral arrangements
Leon Russell – piano (on "Try Some, Buy Some")
Jim Gordon – drums, tambourine (on "Try Some, Buy Some")
Pete Ham – acoustic guitar (on "Try Some, Buy Some")
TRACKS
Side one
"Give Me Love (Give Me Peace on Earth)" – 3:36
"Sue Me, Sue You Blues" – 4:48
"The Light That Has Lighted the World" – 3:31
"Don't Let Me Wait Too Long" – 2:57
"Who Can See It" – 3:52
"Living in the Material World" – 5:31
Side two
"The Lord Loves the One (That Loves the Lord)" – 4:34
"Be Here Now" – 4:09
"Try Some, Buy Some" – 4:08
"The Day the World Gets 'Round" – 2:53
"That Is All" – 3:43