LP REVIEW: that rockin' country vibe with, Randy Meisner – One More Song (1980)
EPIC, 25·3P-249, JAPAN ISSUE, 1980
ARTIST
Shame on me for not even realizing who Randy Meisner was until Yassine picked this record and said "hey, why not review this, he was a founding member of the Eagles".
It's not easy for band members of supergroups to venture out on their own and replicate the success they had as a group. It worked for Phil Collins, Sting, George Michael, and Lionel Ritchie, but people like Ronnie Wood, Philip Bailey, and even Slash and Mick Jagger struggled to create their own identity away from their supergroup status.
He made 5 solo albums and played on some more as a contributor. He played in several bands, the most well-known possibly Poco or Pogo as they were later called – a band formed by Richie Furay and Jim Messina after their earlier band, Buffalo Springfield, collapsed.
If you check Discogs stats you'll see that 650 people have the LP and only 37 want it. Hotel California – on which Meisner sang and played bass – is owned by 175,716 people and 126,310 want it. Data tells a story, but let's have a listen later and judge for ourselves.
You can read an in-depth interview with Randy Meisner on Rock Cellar Magazine's website.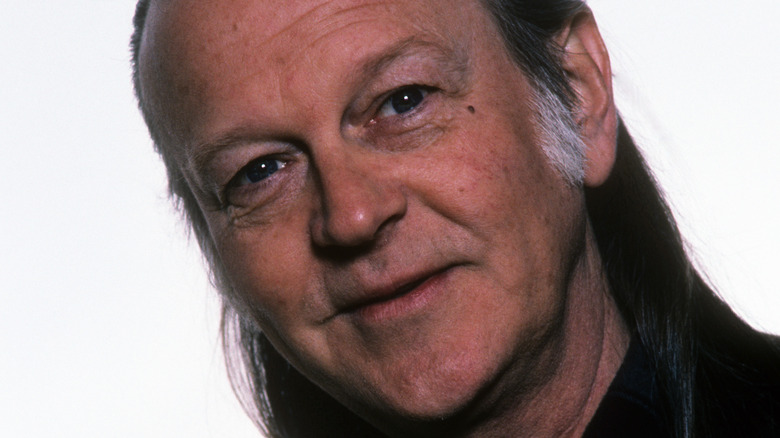 LABEL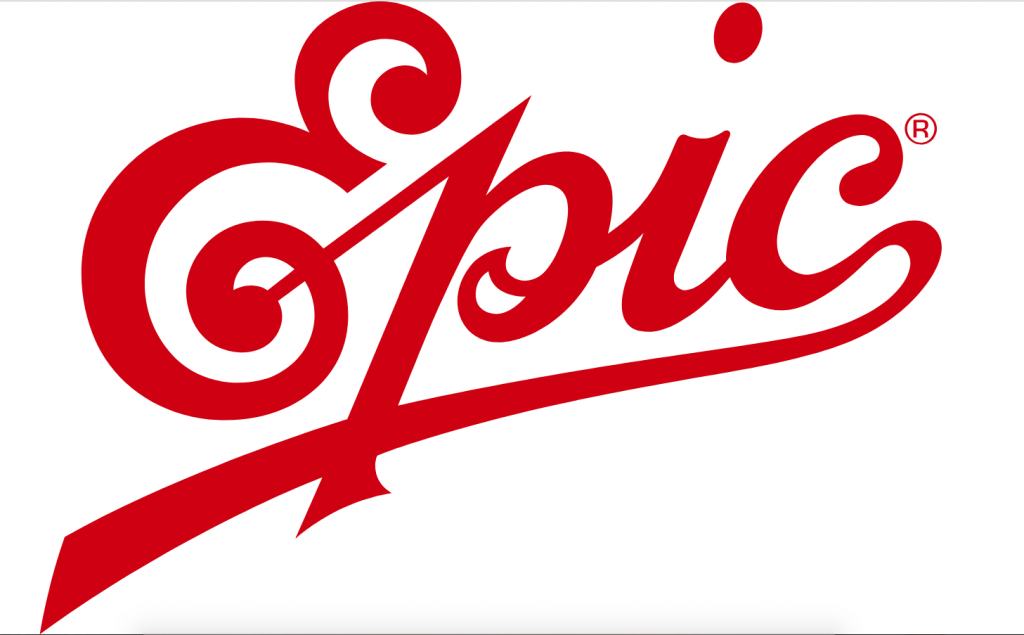 Epic Records was launched in 1953 by the Columbia Records unit of CBS basically to market jazz, pop, and classical music that did not fit in with Columbia.
By the end of the 1960s, Epic earned its first gold record and had evolved into a hit-making force in rock & roll, R&B, and country. Epic's success continued in the 1970s with ABBA, Boston, Cheap Trick, the Clash, Heart, the Isley Brothers, the Jacksons, Meat Loaf, REO Speedwagon, Sly & the Family Stone, Steve Vai, and more…
Epic continued this streak of success in the 1980s fueled by albums by artists such as Michael Jackson, Culture Club, Miami Sound Machine, Wham!, George Michael, Adam Ant, Living Colour, Incubus, Europe, Cyndi Lauper, Pearl Jam, Sade, Luther Vandross, Stevie Ray Vaughan, Rage Against the Machine, Céline Dion, Oasis, and many others.
They still have an impressive list of artists in their books.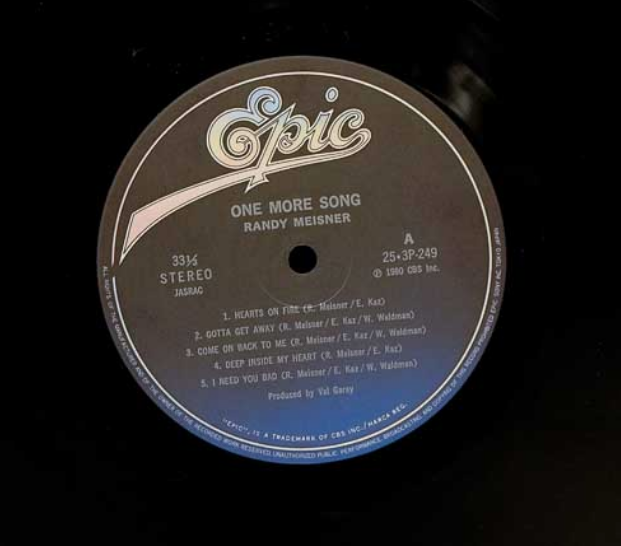 KNOWLEDGE NUGGETS
/1\ Linda Ronstadt's backing band included Don Henley, Glenn Frey, and Bernie Leadon and with Randy Meisner, they became the Eagles (they left Ronstadt in 1972). Randy Meisner's last show with The Eagles was on 9 July 1977 and Hotel California was his last album with them.
/2\ Meisner co-wrote "Take It to the Limit" with Don Henley and Glenn Frey, and he sang lead vocals on the track but the song's success eventually lead to his departure. There are a lot of confusing stories surrounding Meisner and I found this article very useful in unraveling it all.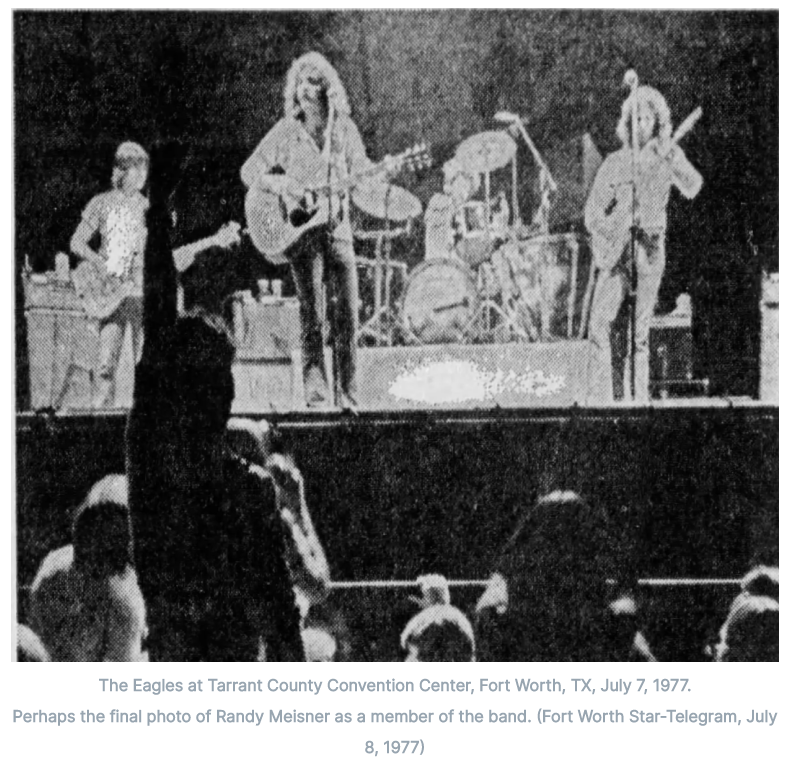 /3\ In a 1980 interview Randy Meisner talked about his solo album as well his time with The Eagles.
/4\ Don Henley and Glenn Frey did the background vocals on one of the tracks (B2) as did Kim Karnes (B4).
MUSIC
The album opens strong with an excellent guitar riff and immediately the music feels right – radio-friendly rock songs with a country vibe I would say. The album is a showcase of Randy Meisner's voice which sounds confident and melodic. I also liked the keyboard and guitar work on the album, from the acoustics to the pedal guitars, all very tastefully done. It gives the album a quality feel. Side A in particular is very strong.
I was not bowled over by the lyrics so much – I did not expect Paul Simon type of verses but they are pretty simple, other reviewers called them 'honest'. The tune White Shoes and the ballad Anyway Bye Bye were the album's low points for me, and unfortunately, they were the two closing tracks. The ballad sounded forced with odd stops here and there – for effect I guess, but it wasn't working for me – and it goes on too long. White Shoes suffers from poor lyrics in my opinion – mind you, it has good guitar work though. Singing about white shoes sounds a bit square, but hey, Elvis sang Blue Suede Shoes – but I guess The King was different 🙂
Apart from those two songs, I think the overall album is strong and musically cohesive with that attractive rocking country vibe. I think it's one of those albums that, once you pull it out, even years after you've bought it, will positively surprise you.
YOUTUBE LINK
You can listen to the entire album on youtube
RAW MUSIC Store
Only 30AED !! Available online at the RAW MUSIC website. This Japan issue comes with a very cool insert, outlining Randy Meisner's musical family tree.
PERSONNEL
Backing Vocals – Wendy Waldman
Bass – Bryan Garofalo
Drums – Craig Krampf
Guitar, Steel Guitar [Pedal] – Craig Hull
Keyboards – Sterling Smith
Percussion, Backing Vocals – Don Francisco (4)
TRACKS
Side one
"Hearts on Fire" (Eric Kaz, Meisner) – 2:48
"Gotta Get Away" (Kaz, Meisner, Wendy Waldman) – 4:03
"Come on Back to Me" (Kaz, Meisner, Waldman) – 3:51
"Deep Inside My Heart" duet with Kim Carnes (Kaz, Meisner) – 3:29
"I Need You Bad" (Kaz, Meisner, Waldman) – 3:11
Side two
"One More Song" (Jack Tempchin) – 3:55
"Trouble Ahead" (Kaz, Meisner, Waldman) – 4:12
"White Shoes" (Tempchin) – 4:11
"Anyway Bye Bye" (Richie Furay) – 4:30