LP REVIEW: looking back in jazz history through a window in time with "FATS" WALLER AND HIS RHYTHM, AIN'T MISBEHAVIN'
"FATS" WALLER & HIS RHYTHM, AIN'T MISBEHAVIN', 1970 USA RE-ISSUE, COMPILATION, RCA – AFM1-1246, MONO (1956)
ARTIST
Thomas "Fats" Waller (1904-1943) was a contemporary of Louis Armstrong. We are talking about the thirties and forties here. He was a piano prodigy, a band leader, a composer, an organist, a recording artist, and an entertainer.
I don't know about you, but if someone invited me to write liner notes to a Fats Waller album, I would not start my story with "Undoubtedly, "Fats" Waller was fat". It does not add any useful information, nor has it any bearing on the impact this man had on jazz. Anyway, moving on…
Waller made his recording debut in 1922 for Okeh Records. He played the organ at the Lincoln Theatre in New York and in theaters in Philadelphia and Chicago. In addition, he often starred at Harlem's so-called "rent parties," where he and his fellow musicians would stage concerts in friends' homes.
At one point, according to some sources, Fats was kidnapped by Al Capone's henchmen and forced to perform at a multi-day birthday party for the gangster boss.
Waller became more involved with writing and performing for revues in the late 1920s. In 1934, he began a regular radio show called "Rhythm Club," and formed the Fats Waller and His Rhythm sextet. Waller appeared in two Hollywood films in 1935.
On this review record, Waller is featured with his sextet, a band of musicians he recorded and toured with throughout much of the thirties. Between 1934 and 1942 the group recorded about 400 sides, well over half of Waller's lifetime recorded output.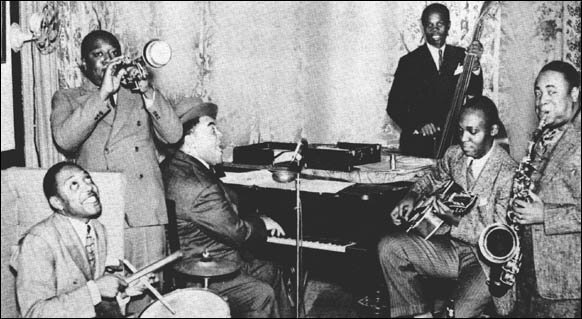 Fats Waller died young but his music lives on, with two of his tunes – "Ain't Misbehavin'" and "Honeysuckle Rose" – inducted into the Grammy Hall of Fame in 1984 and 1999.  He was also inducted into the Songwriters Hall of Fame in 1970, the Big Band and Jazz Hall of Fame in 1989, and received a Grammy Lifetime Achievement Award in 1993.


LABEL
Does it get any more iconic than the RCA Victor record label? I wrote the back story in RPJR#5 so won't repeat it here.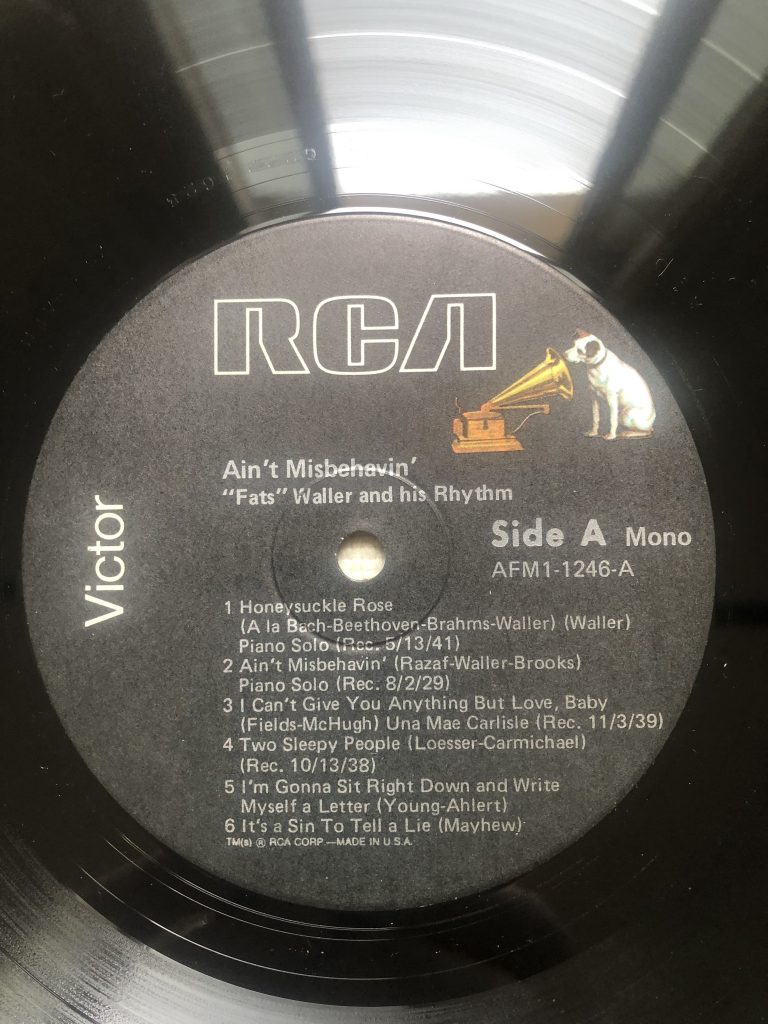 These older records often have wonderful references to recording equipment or instructions for consumers on how to optimize playback. This one has a rather stern warning about making sure your stylus is in good order – exclamation mark! 🙂


MUSIC
It's like going back in time and hearing how people listened to jazz in the twenties and thirties. Most of the tunes have vocals and Fats Waller often adds some jokes or funny comments, like you expect in a revue on stage in a theatre or when you attend a show in a nightclub.
This was entertainment and in those days jazz was dance music (big bands) or like this – you can hear & see it when you play that youtube video. But despite the cabaret-like antics, focus on the piano playing. Fats Waller may have been a big guy who liked to play the comedian, but his touch on the piano was light as a feather and very elegant. His playing really swings.
The sound quality on this LP is not too bad and certainly a far cry from being an audiophile, but it's an old sound and it fits the music. Not sure what they used to record this compilation, but with some tunes, it sounds like they used old records. Remember this was a re-issue of a compilation album they put out in 1956. It's not tape hiss, but you can hear the needle from an old gramophone digging through the grooves. This certainly adds some charm to the record.
The entire album is available on youtube but I am going to link you to the most famous tune, Ain't Misbehavin' – which btw, he wrote while he was in jail for nonpayment of alimony 🙂 – it will get you in the mood well enough.

RAW MUSIC STORE
The album is available on the RAW MUSIC STORE website and for 60AED you can own a piece of history.
PERSONNEL
The sleeve does not list the members of the sextet. I did some research and found a list of musicians who played in his sextet at one time or another during its lifespan. Not sure if it's complete. There is no further info about who played on this album – it's a compilation spanning multiple years – nor who played on what track.
Fats Waller, piano, vocals
Slick Jones, Yank Porter, Harry Dial, Arnold Bolden drums
Herman Autrey, Bill Coleman, John "Bugs" Hamilton, trumpet
Sedric Wallace, Charles Turner, bass
Albert Casey, guitar
Eugene "Honey Bear" Sedric, saxophone, and other reeds
TRACKS
A1 Honeysuckle Rose
A2 Ain't Misbehavin'
A3 I Can't Give You Anything But Love, Baby
A4 Two Sleepy People
A5 I'm Gonna Sit Right Down
A6 It's A Sin To Tell A Lie
B1 The Minor Drag
B2 The Joint Is Jumpin'
B3 Hold Tight
B4 Your Feet's Too Long For The Bed
B5 Until The Real Thing Comes Along
B6 Tea For Two