LP Review: getting out of the comfort zone with Eric Dolphy – Last Date (1978)
MERCURY SMX- 7199, 1978 JAPAN STEREO RE-ISSUE OF THE ORIGINAL 1964 MONO ALBUM ON FONTANA 681 008 ZL
Artist
Eric Dolphy was born in Los Angeles in 1928. He started his public performing career in 1958 as part of the Chico Hamilton Quintet. Dolphy was a child of the bebop revolution that started with Charlie Parker, Dizzy Gillespie, and Bud Powell (see RPJR#7). There is an excellent article in the New Yorker if you want to dig a little deeper.
Dolphy's life was all too brief. He died on June 29, 1964, at the age of thirty-six – which sadly also makes this album, recorded on 2 June 1964, his last recorded album (there is some debate online about whether there was a later gig in Paris but what does it matter…). You can read some of the wonderful and some of the sad details of his life in that New Yorker article. He left us a large discography. He worked as a sideman in major groups led by Charles Mingus and John Coltrane for example.
Eric Dolphy was a true original with his own distinctive styles on alto sax, flute, and bass clarinet. His music fell into the "avant-garde" or "free jazz" category. Although the alto sax was his main instrument, Dolphy was the first flutist to move beyond bop and he basically was responsible for introducing the bass clarinet to jazz as a solo instrument.  Oh, and he liked to smoke a pipe now and then…
Label

Mercury Records was a huge force in the music world. It released enormous amounts of music in many different genres. Their jazz catalogue was mainly released under one of their subsidiary labels called EmArcy. There is some history to get through here, so bear with me. Otherwise, feel free to skip over to the Music section.
Mercury Records was founded in 1945 in Illinois, Chicago by Irving Green, Berle Adams, and Arthur Talmadge.
This was the time of the 78rpm record. It took several years still before the introduction of the "Long-Playing Microgroove" record.
Mercury released their own materials, plus music from other record companies. In 1949 Mercury started releasing 10-inch LPs and they increased their own recordings such as the famous "Living Presence" series (high-fidelity recordings of Classical music) and the "EmArcy" subsidiary label (Modern Jazz). These records have become highly collectible.
Mercury's jazz division had two founders, John Henry Hammond, Jr. and Norman Granz. John Henry came in when Mercury bought Keynote Records in the late 1940s. Mercury was the distributor for Norman Granz's pre-Norgran/Verve recordings. Both Hammond and Granz left Mercury by the mid-'50s. Norman Granz started his own record company, Norgran, which later became Verve. (see RPJR#7)
In 1961 the Dutch company Philips (Phonogram) bought Mercury and all of its subsidiary labels. In 1962 Philips merged its music division with Deutsche Polydor and in the early 1970s changed the name to PolyGram (Polydor + Phonogram). Mercury survived until the 1980s and kept releasing huge amounts of albums.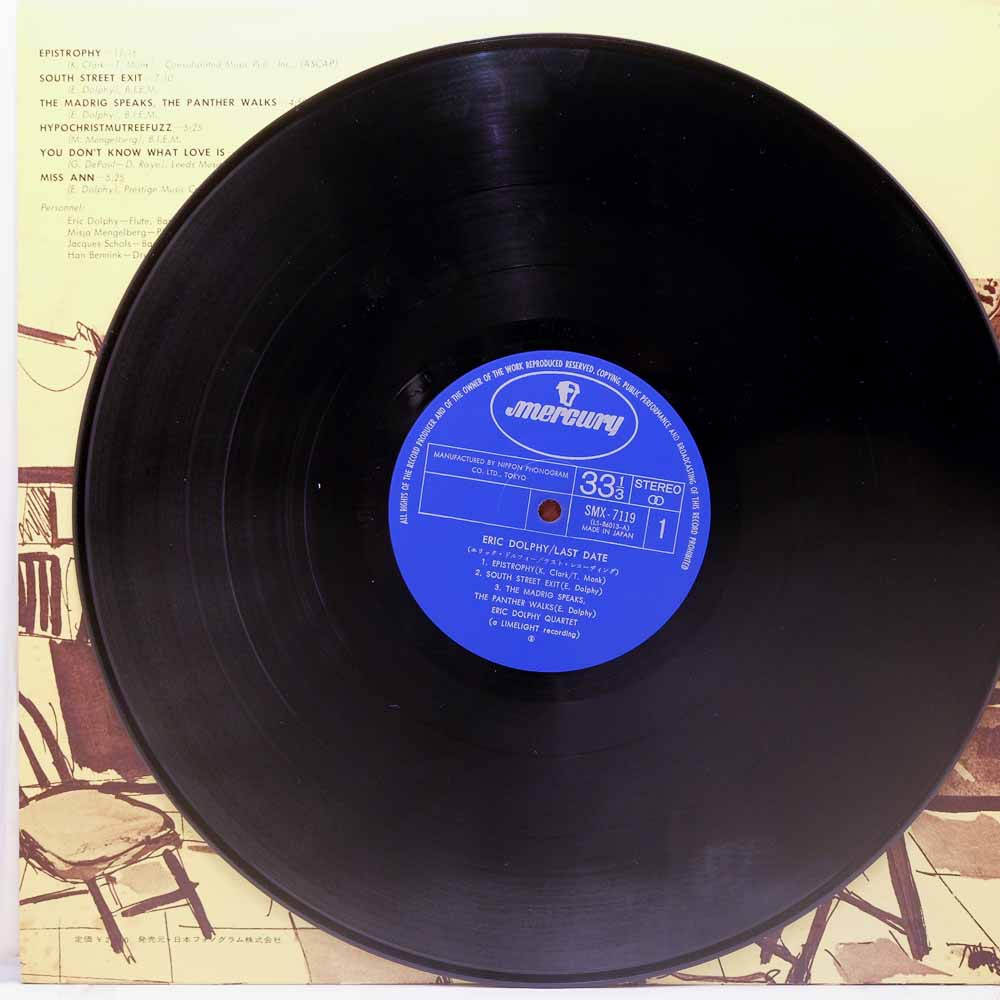 PolyGram acquired Decca, MGM, Verve, A&M, Island, and many others. In June 1998 PolyGram was purchased by Seagram, who owned MCA. Today their catalogue is owned by Universal Music Group. In 2007 Mercury Records started operating under its own name again as a subsidiary of Universal Music Group. That was quite the whirlwind tour of acquisitions in label land!
Music
Generally speaking, there are a few things I'm not too fond of in jazz music and that is flute, alto sax, and free jazz. To me, free jazz often descends into a-tonal cacophony, without purpose and melody. Maybe I just don't get it, but while I appreciate the art form, to me it's a little too much art for art's sake.
Some of that comes together on this record, but let me say this – This is a fantastic record! It often pays off to get out of your comfort zone.
The band is world-class. Dolphy knows how to play improvisational jazz but keeps the melody intact. Things never really get out of control on this set, it's a very nice combination of improv, rhythm, and swing. The proceedings are greatly helped by stellar and propulsive bass played by Jacques Schols (1935-2017). He really underpins the entire music with a driving and swinging style, which contrasts nicely with the more improvisational aspects of the various tunes here.
The sound is great, much better than the Bud Powell I reviewed in RPJR#7. It's open with good tonality, well-rounded bass, and nice sounding piano. Note that this is a live recording, originally recorded in Mono, so this is probably re-processed stereo because I cannot find any reference to the existence of a separate stereo tape. I could be wrong of course.
You can listen to the album here:
RAW Music Store
This wonderful Eric Dolphy record is available online and in the RAW Music Store for 100AED. No Obi, but with Japanese language insert + surprise (see below). Another one of these Japanese records in incredibly good shape for its age. Great cover art as well – created by Zbigniew Jastrzebski, an American illustrator (1941-2001).
I cleaned the LP with my Audio Desk Pro X ultrasonic record cleaner and put it into a fresh MoFi inner sleeve. I don't do this with every review record, but with this one, I just felt like it so the lucky buyer will benefit from a much quieter surface and an exquisitely cleaned, anti-static, and shiny LP. Someone buy this, quick!
Tracks
Epistrophy – Composed By K. Clarke, Thelonius Monk
South Street Exit – Composed By E. Dolphy
The Madrig Speaks, The Panther Walks – Composed By E. Dolphy
Hypochristmutreefuzz – Composed By M. Mengelberg
You Don't Know What Love Is – Composed By D. Raye, De Paul
Miss Ann – Composed By E. Dolphy
Personnel
Bass – Jacques Schols
Drums – Han Bennink
Flute, Bass Clarinet, Alto Saxophone – Eric Dolphy
Piano – Misja Mengelberg
Note: The album was recorded at the VARA television studios in the town of Hilversum, Holland, on 2 June 1964, hence all the Dutch jazz musicians in the band. Misha Mengelberg, the pianist, was responsible for penning one of the tunes as well. Nice Euro-US collab. This was a special event with a small number of selected guests as the audience. The recording would later be broadcast on radio.