LP REVIEW: The piano man, with Billy Joel, Songs In The Attic (1981)
CBS SONY, Stereo, 20AP 2130, Gatefold, Japan Issue
ARTIST
The last time I listened to a Billy Joel album was probably somewhere around 1987. Scary thought :-)! He was one of the first major American artists to bring a large-scale pop show to what was then called the Soviet Union. His Leningrad concert was released as a live double album called Kohuept, or Concert in Russian. That was a good album. It contained a great version of his anti-war song Good Night Saigon.
Billy Joel took the opportunity to position himself in the middle of geopolitics, by visiting the USSR, talking about change, singing a US introspective anti-Vietnam war song (in the USSR), and generally promoting a message of East-West understanding. Looking at where the world is right now, one can say that this goodwill did not last …
Billy Joel was born on May 9, 1949, in the Bronx (NY). His solo career started in 1971 and 2 years later his song "Piano Man" started his road to becoming a global superstar. He was inducted into the Songwriters Hall of Fame in 1992 and into the Rock And Roll Hall of Fame in 1999. He also has not released a new album for over 30 years.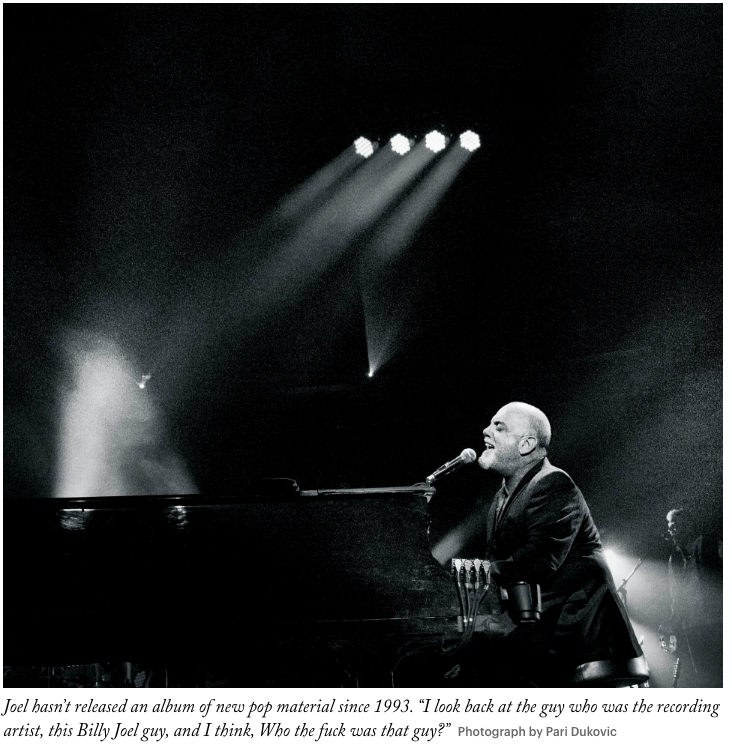 He may not have released a new album for a long time but the piano man keeps a very active tour schedule. His 2023 gigs are posted on his website.
LABEL
I wrote about CBS SONY before, there is not much to add. CBS Sony launched in 1968 and was set up to serve the Japanese, Hong Kong, South East Asia markets, and Spain, oddly enough. Sony dropped the CBS label in 1991 in favor of Columbia, which they acquired from EMI. Our review LP comes with the classic Columbia-style red label.
KNOWLEDGE NUGGETS
/1\ For 16 years Billy Joel and Elton John performed shows together. That stopped in 2010, making it the most successful and longest-running concert pairing in pop history. You can check out the one they did in Tokyo HERE.
/2\ BJ sold >150M records. The list of accomplishments is huge.
/3\ Listen to a 30m interview with Billy Joel where he discusses this album:
MUSIC
This was Billy Joel's first live album. He picked songs from earlier albums that according to him never got the recognition or airplay they deserved. I would agree with that sentiment. These are excellent songs, all of them.
In many respects, this and the above-mentioned Russian live album Concert are the ideal pair to get a feel for Billy Joel's music. Concert has his well-known hits and SitA the deeper cuts from earlier work. You can stop there and you get the measure of BJ I think. His music is rich and melodic with of course much piano but also heavy doses of guitar to give it that full-on rock sound.
Billy Joel is also a great storyteller I find (BJ: "hey, I am a philosopher"). His lyrics are always about something. In many ways he is the American version of Elton John, but with a sting. As I mentioned above he does not shy away from providing insightful social commentary in some of his songs.
This album sounds familiar if you know BJ's later work but it also deepens the engagement. This aspect I did find somewhat surprising – many artists' earlier work does not sound so similar to their later work as their sound evolves. It's not a criticism, just an observation. If you are a Billy Joel fan and you don't have this album, I would say it's a mandatory buy. If you don't know Billy Joel, I would start with Concert and move from there.
YOUTUBE LINK
You can listen to the entire album on youtube
RAW MUSIC STORE
This album is available online at the RAW MUSIC Store website for 60 AED.
PERSONNEL
Acoustic Guitar, Electric Guitar, Rhythm Guitar – Russell Javors
Bass Guitar – Doug Stegmeyer
Drums, Percussion – Liberty DeVitto
Electric Guitar, Acoustic Guitar, Lead Guitar – David Brown
Organ, Saxophone, Flute – Richie Cannata
Vocals, Piano, Keyboards, Synthesizer, Harmonica, Design Concept, Liner Notes, All music written by – Billy Joel
TRACKS
A1 Miami 2017 (Seen The Lights Go Out On Broadway) 5:05
A2 Summer, Highland Falls 3:03
A3 Streetlife Serenader 5:17
A4 Los Angelenos 3:48
A5 She's Got A Way 2:44
A6 Everybody Loves You Now 3:10

B1 Say Goodbye To Hollywood 4:25
B2 Captain Jack 7:16
B3 You're My Home 3:07
B4 The Ballad Of Billy The Kid 5:28
B5 I've Loved These Days 4:35