LP REVIEW: never judge an album by the back cover, with Boz Scaggs – Middle Man (1980)
CBS/SONY, JAPAN ISSUE, 25AP1760, 1980
ARTIST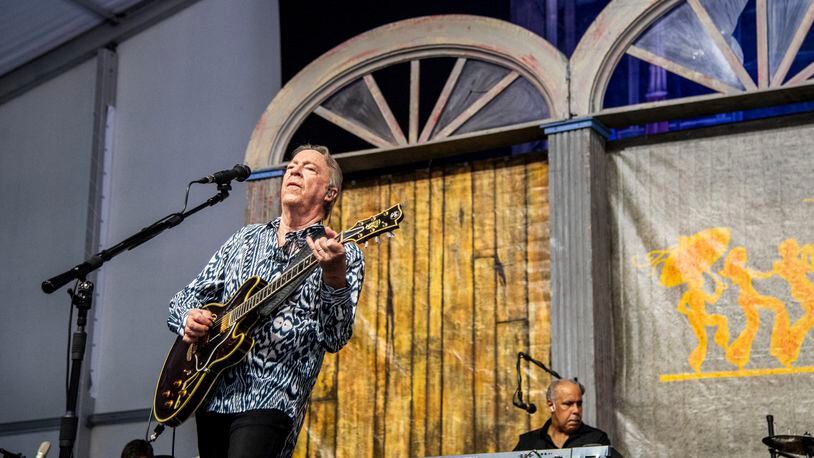 Boz Scaggs is one of my favorite artists. He was born June 8, 1944 in Canton, Ohio, USA as William Royce Scaggs. His nickname Boz was given to him by his classmates at school. He released his first solo album – Boz – during a stay in Sweden. He never became a household name – nor did he want to – but he has a steady and global following. It's also one of those artists that somehow regularly shows up in these batches of Japanese records RAW MUSIC buys 🙂
In 1959, he was 15, he sang and played tambourine with Steve Miller, from Steve Miller Band fame. His greatest commercial success came in 1976 with the album Silk Degrees. The tune "Lowdown" won him a Grammy in 1977. Our review album was his final album prior to an eight-year hiatus. Much of the '80s he spent in retirement. He owned a San Francisco nightclub called Slim's, and he only played their annual New Year's Eve concerts.
To me, Boz Scaggs stands for enormous musicality and a sensitivity to singing and songwriting that is completely unique. Rock & Blues, Soul, Rhythm & Blues, Pop, Funk, you can find it on all of his albums. Here's a good overview of 10 songs spanning his career between the late 60's and 2010's.
LABEL
Nothing terribly exciting to report here in the Label section. CBS/Sony was a label active in Japan, South Korea, Hong Kong, South-East Asia and Spain. In Japan the label was launched in 1968 by CBS/Sony Records Inc. – a joint-venture of CBS and Sony Japan. Following Sony's acquisition of CBS Records, the label in Japan was renamed to Sony in 1991.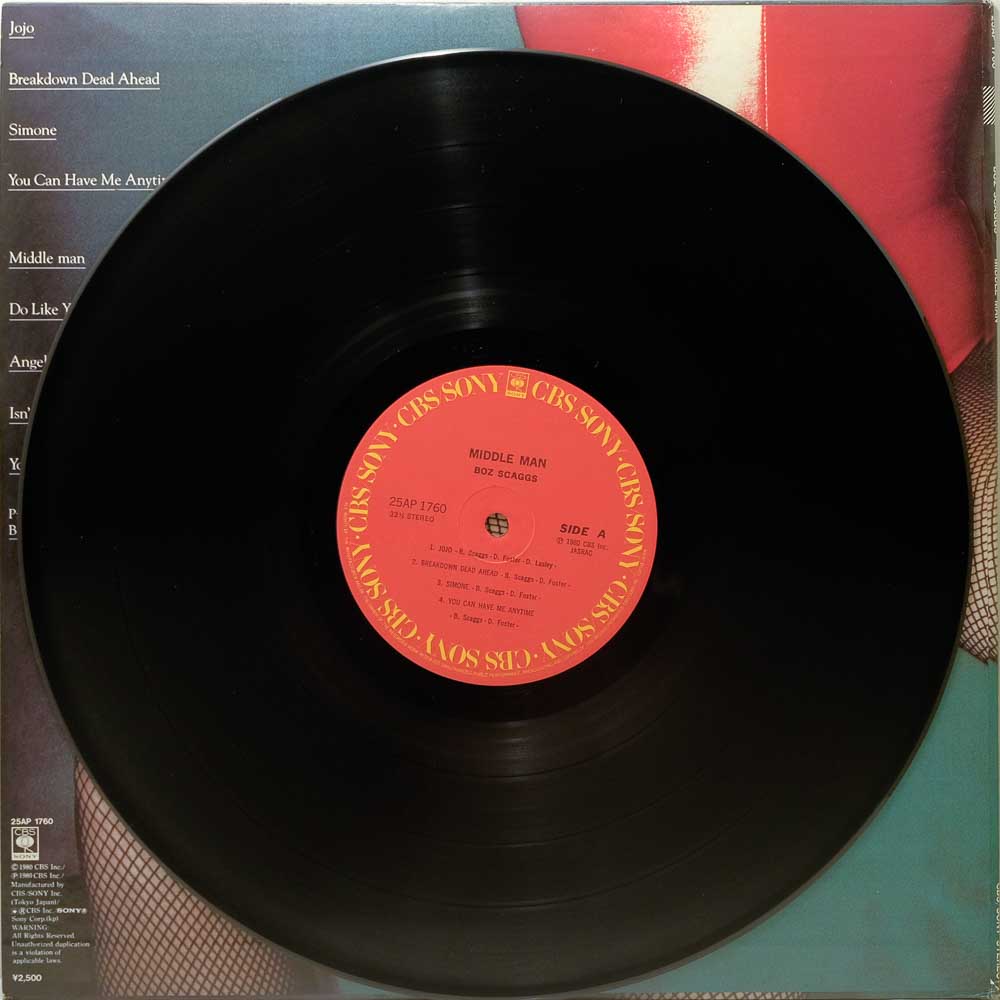 KNOWLEDGE NUGGETS
/1\ The studio musicians Boz Scaggs hired on the album "Silk Degrees" formed the group TOTO
/2\ Boz Scaggs generally alternates between playing vintage Gibson, Fender and Martin guitars
/3\ Boz himself had the usual response 😉 on that controversial album cover, back in an interview from 1986:
Q: "What do you say to the review of your latest album Middle-Man in Billboard magazine that stated, and I'll quote, "The one disturbing note is the cover, which seems to turn the album's title into a dirty, sexist joke?"

A: "I loved that review. I think she gave the album a marvelously intelligent review. And she seemed to know what she was talking about, music wise. But it's never occurred to me that any of those album covers are sexist."
/4\ In 2010 Boz Scaggs joined The Dukes of September, a 'supergroup' with Donald Fagen and Michael McDonald. This came out of a very interesting series of concerts named the New York Rock and Soul Revue. There is an LP you should definitely own if you like this music.
MUSIC
Boz Scaggs to me always surrounds himself with kick-ass horn sections and groovy keyboardists, wonderfully varied and rich instrumentations as well as soulful background singers. He is very good at creating an atmosphere, a mood, largely due to his voice and phrasing which is rather unique. Check out his Greatest Hits album (live) which I think is a stone cold masterpiece.
In some corners his music has been labelled 'Yacht Rock', a moniker which he rejected because it assumes his music has no depth. Yacht Rock is characterized as generally well produced, melodic music mainly used to create a sophisticated backdrop with light catchy tunes. I understand why Boz Scaggs never liked this association.
Rock & Soul. That moniker fits the music. This album displays all of it, as well as his funky R&B style. There are synth-rich rock songs, "Angel You" and "Middle Man", plus the jazzy opener "Jo Jo" and the melodic "Simone". Yes, you can hear some "Toto" influences here and there, which a) is not a bad thing and b) not a surprise given who is playing. Furthermore there are two ballads (A4, B4), one of which features a Carlos Santana guitar solo. I think this is one of the essential Boz Scaggs albums.
YOUTUBE LINK
You can easily find the entire album on youtube, but let me leave you here with the opening track JoJo – probably one of the best opening tracks an album can have. Gets you in the groove right away ! (looks like Magnum is playing the sax 🙂
RAW MUSIC STORE
You can get this album for only 40AED at RAW MUSIC Store's website.
PERSONNEL
Bass – David Hungate, John Pierce (A1)
Drums – Jeff Porcaro, Rick Marotta (A2,B4), Joe Vitale (B2)
Guitar – Ray Parker Jr., Steve Lukather, Carlos Santana (A4)
Keyboards – David Foster
Vocals – Bili Thedford (tracks: A2, A3, B1, B4, B5), Charlotte Crossley (tracks: A1), David Lasley (tracks: A1, B2), Paulette Brown (tracks: A2, A3, B1, B4, B5), Sharon Redd (tracks: A1), Venetta Fields (tracks: A2, A3, B1, B4, B5), Rosemary Butler (B3,B4), Julia Tillman Waters, Oren Waters (B1,B5)
Saxophone – Adrian Tapia (A1)
Piano – Don Grolnick (A2,B4)
Synthesizer – David Paich (A3)
Clavinet – James Newton-Howard (B2)
Organ – David Paich (B2)
TRACKS
A1. Jojo. 5:51
A2. Breakdown Dead Ahead. 4:34
A3. Simone. 5:08
A4. You Can Have Me Anytime. 4:56
B1. Middle Man. 4:51
B2. Do Like You Do In New York. 3:44
B3. Angel You. 3:37
B4. Isn't It Time. 4:52
B5. You Got Some Imagination. 3:56