LP REVIEW: Peter Erskine – s/t (1982)
CONTEMPORARY RECORDS, P-11298, JAPAN, STEREO, 1982
ARTIST
Peter Erskine is a drum giant. Born in Somers Point (New Jersey) on 5 June 1954, he began playing the drums at the age of four. He has been at the forefront of world-class jazz ensembles for over thirty years.
His first major professional work was with the Stan Kenton Orchestra, which he joined in 1972. Five years later he joined Weather Report (1978). The rhythm section of Erskine plus bass player extraordinaire Jaco Pastorius was an integral part of that group's success. Following his 4 years with Weather Report, he began to play with Michael Brecker, Mike Mainieri and Eddie Gomez in the group Steps Ahead.
His touring and recording credits (500 albums !) include Diana Krall, Steely Dan, Chick Corea, Joe Henderson, Freddie Hubbard, Gary Burton & Pat Metheny, Boz Scaggs, Joni Mitchell, Ralph Towner, Sadao Watanabe, Queen Latifah, Al Di Meola and Jan Garbarek, as well as John Scofield, Bill Frisell and Marc Johnson, the John Abercrombie Trio, the Bob Mintzer Big Band, and on top of all that his own group.
Peter Erskine has won the Modern Drummer magazine Readers' Poll in the "Jazz Drummer" category 10 times and was awarded an honorary Doctorate from the Berklee College of Music. There is more, but I'll stop here. You get the picture 🙂 !
LABEL

Contemporary Records is one of the storied labels in jazz. Founded in 1951 by Lester Koenig, Contemporary Records was a Los Angeles-based audiophile jazz label. It defined and radically expanded the sound of West Coast jazz. Just browse the wikipedia entry to get a feel for its importance.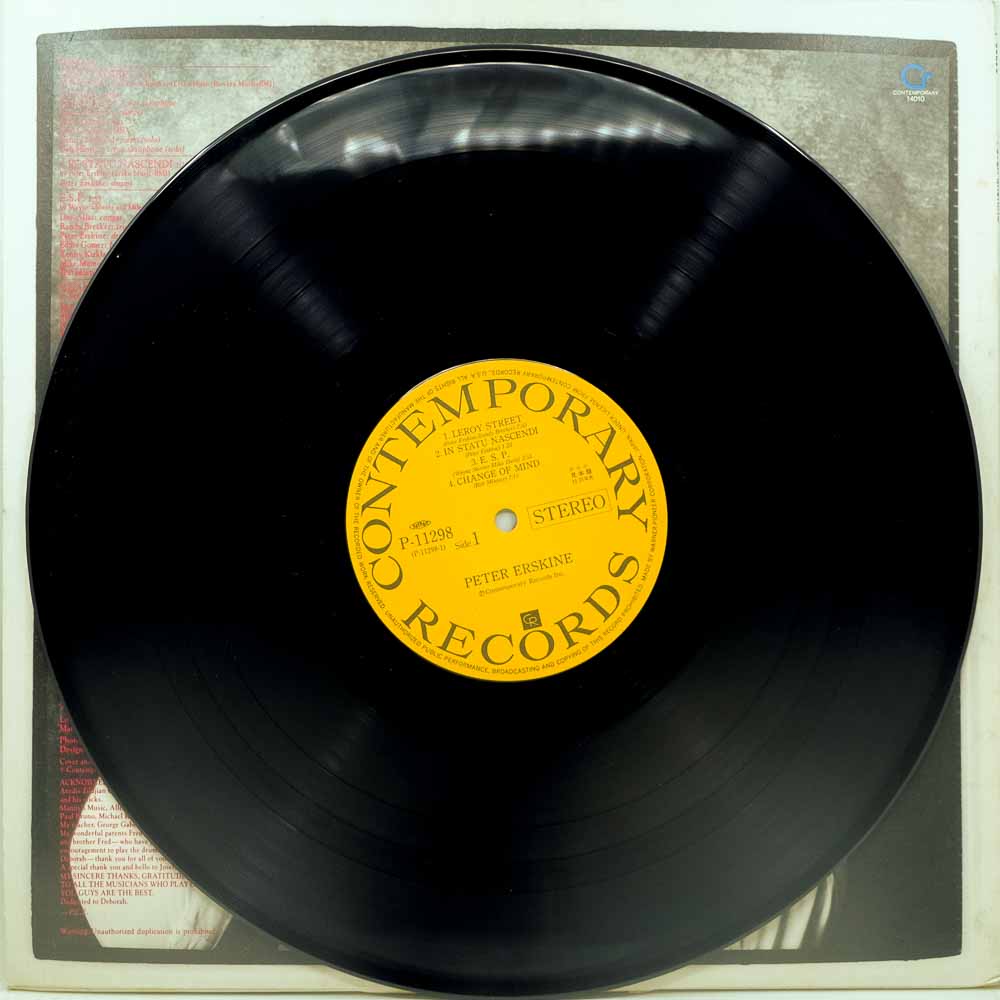 Throughout the '50s, '60s, and '70s, Lester Koenig's artist-friendly company released career-defining performances by some of modern jazz's most influential and accomplished improvisers, including Ornette Coleman, Sonny Rollins, Art Pepper, Barney Kessel, Shelly Manne, Ray Brown, Red Mitchell, André Previn, Benny Carter, and Hampton Hawes.
Not only the artists but also the engineers were audio royalty, Roy DuNann, Lester Koenig, Howard Holzer, and Bernie Grundman. Read their story here.
KNOWLEDGE NUGGETS
/1\ Lists are tricky but Peter Erskine is #20 out of 50 all-time greatest jazz drummers, according to uDiscovermuisic
/2\ Drum Magazine's account of the best jazz drummers of all time at least did not feature a numbered list
/3\ Our review LP was recorded directly to 1/2 inch 2-track tape at 30IPS. Bernie Grundman mastered it.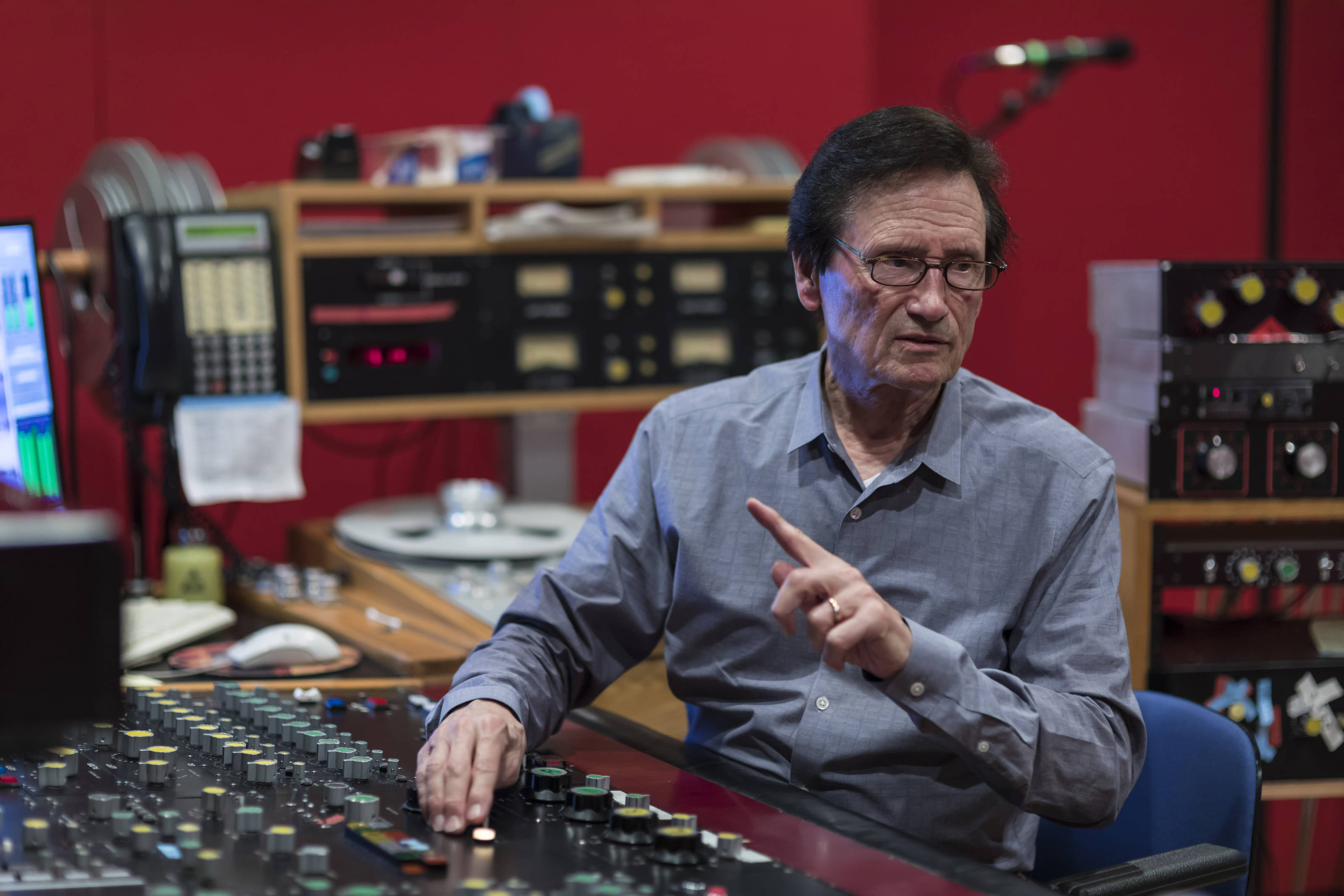 MUSIC
We continue with the Brecker brothers. In RPJR#23 Randy Brecker was heard playing on a Jack Wilkins record. Here we are treated to Randy playing alongside his brother Michael.
Checking the discography in Discogs it looks like this was Peter Erskine's first album. It lists about 100 with him as a leader. In 1982 it was simultaneously released in the US, Japan, Germany, Italy, and – on cassette – in Indonesia.
Given his Weather Report and Steps Ahead background, I was expecting a fusion record and that's more or less what we've got here, but it's leaning toward the jazzy part rather than the rock part. I think the music journalists will call this post-bob or whatever. As I said, more jazz than fusion.
Fusion. As a genre, it never really stuck with me. It lacks the acoustic of jazz, the funk of funk, and the character and impact of rock. Even if you listen to the electronic Miles Davis in the eighties, you get a sense of adventure. It's edgy, you never know what he is going to play next. In fusion, you don't really get that I think (I know, I know – this is a sweeping generalization and I already know several exceptions just off the top of my head 🙂 and yes, I can hear the Weather Report fans protesting indignantly, so take this with a grain of salt – as always, this is just one guy's opinion).
This record is a star-studded line-up of top musicians. This is a quality effort. It swings. It has drive. The playing is stellar. Of course, how can it not be ! I have never heard bad music coming out of Randy and Michael Brecker, Eddie Gomez is Bill Evans' bass player, need I say more? Bob Mintzer on sax is fantastic, Kenny Kirkland a great pianist – also known to propel Sting in his first (or second?) solo effort, that was distinctly jazz-tinged – remember the double album Bring On The Night (1986)…
Would I buy this record? Probably not. Should you? Most probably, yes 🙂



YOUTUBE LINK
You can listen to the entire album on youtube
RAW MUSIC STORE
The LP is available on the RAW MUSIC website for 50 AED. Looks unplayed. Mastered by Bernie Grundman. Contemporary Records. Folks – if you buy this from Japan in this condition yourself, you'll end up paying 3 times as much. Basically, (almost) nothing not to like!
PERSONNEL
Bass – Eddie Gomez
Congas, Shaker, Bata Drum – Don Alias
Drums, Percussion, Keyboards – Peter Erskine
Electric Piano, Keyboards – Don Grolnick
Piano – Kenny Kirkland
Tenor Saxophone – Michael Brecker
Tenor Saxophone, Bass Clarinet – Bob Mintzer
Trumpet, Flugelhorn – Randy Brecker
Vibraphone – Mike Mainieri
TRACKS
A1: Leroy Street 7:55
A2: In Statu Nascendi 1:30
A3: E.S.P. 2:58
A4: Change Of Mind 7:30
B1: All's Well That Ends 11:09
B2: My Ship 5:45
B3: Coyote Blues 4:43