LP REVIEW: THE JACK WILKINS QUARTET – MERGE (1977)
CHIAROSCURO RECORDS, ULS 1682 CH, JAPAN RE-ISSUE, LIMITED EDITION, STEREO, 1978 ORIGINAL ON CHIAROSCURO RECORDS, US, CR-156, 1977 Made By – Nippon Columbia Co., Ltd.
ARTIST
Guitarist Jack Wilkins (1944) has been a part of the New York jazz scene for more than four decades. He has been on the International jazz circuit since the early 1970s. He is known for his flawless technique and imaginative use of chords. He played with many of the greats such as Chet Baker, Sarah Vaughan, Stan Getz, and Buddy Rich but there were many other collaborations.
Jack began playing guitar at age thirteen. His mentors included Johnny Smith, Django Reinhardt, Charlie Christian, Wes Montgomery, Joe Pass, Bill Evans, Clifford Brown, and Freddie Hubbard. He has been widely profiled in magazines such as Guitar Player, Just Jazz Guitar, Downbeat, and 20th Century Guitar.
Jack Wilkins lives in Manhattan, NY, and teaches at The New School, Manhattan School of Music, NY University, and Long Island University. He also conducts seminars and guitar clinics, both in New York, online, and abroad.
LABEL
More than half of the inductees in The American Jazz Hall Of Fame have recorded for CHIAROSCURO RECORDS. People like Gerry Mulligan, Cab Calloway, Dizzy Gillespie, Nat Adderley, Lionel Hampton, Woody Herman, and many more. In the early 1970s, they began producing jazz recordings by musicians that were largely ignored by the major labels who were focussing on pop music.  From 1970 through 1978 they released more than one hundred LPs. In 1979 the company was sold and disappeared until about 1987 when a wealthy jazz aficionado was able to provide the financing and the management to re-start the label.
The word "chiaroscuro" (pronounced: key-arrow-skew-row) is primarily used as a fine arts term. One definition in Webster's Dictionary is "the interplay of light and shadow on a surface". The name was chosen by Hank O'Neal, the label's founder because back in the 1930s, Eddie Condon presented what was referred to as Chiaroscuro Concerts. The label is active today, see their website.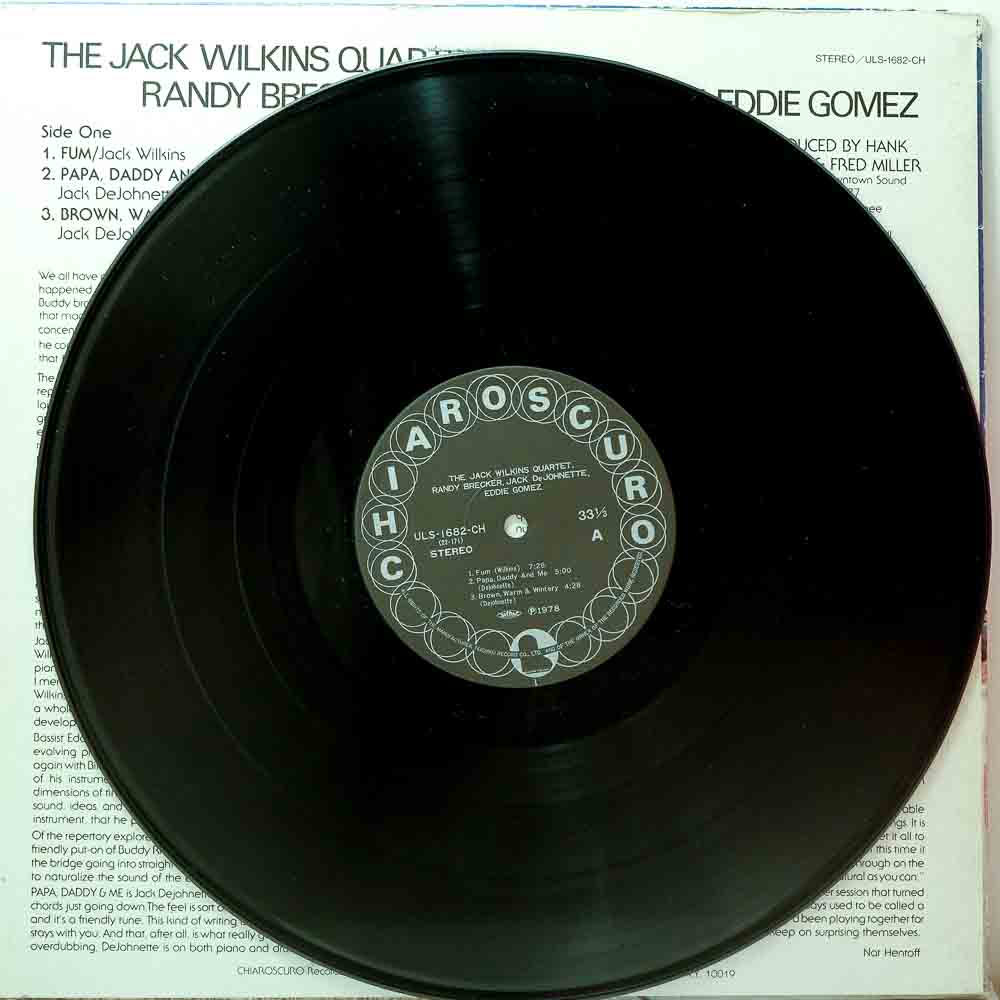 KNOWLEDGE NUGGETS
/1\  Randy Brecker said in a 2016 interview that they were playing in a club and after the session, they went to a studio "to record it live with no overdubs. It was recorded in three or four hours. We did the whole thing in one or two takes."
/2\ George Mraz (above) played the very last bass note on track B2 ! Not bad in return for a credit on the liner notes 🙂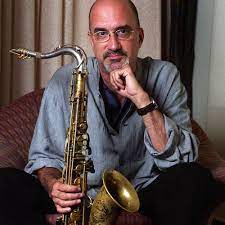 /3\ Randy Brecker had a famous brother, Michael (1949-2007). He was a saxophone player and composer with 15 Grammy Awards, an Honorary Doctorate from Berklee College of Music in 2004, and was inducted into the DownBeat Jazz Hall of Fame in 2007.
/4\ There was a second session in October 1977 where 4 more tracks were laid down with a slightly different setting; partnering with Jack Wilkins and Randy Brecker was Al Foster on drums, Jon Burr on bass, Phil Markowitz on piano and Michael Brecker on tenor sax. Chiaroscuro issued a second LP called You Can't Live Without It containing these additional tunes. Later, CDs were issued containing the tracks from both records.
MUSIC
In RPJR#20 I mentioned that Jim Hall was one of my favorite jazz guitarists. You can add him to Wes Montgomery, Kenny Burrell, and of course Grant Green. But Jack Wilkins, wow, I never heard of him until Sam handed me this record last week. This is a fantastic player. What helps here of course is the fact that he has the Bill Evans rhythm section behind him and Randy Brecker on one of my fav instruments, the Flugelhorn.
This album is very original, both in the track selection and the playing. There is a bowed bass and guitar track (B3) that sounds amazing and the overall impression I had was that I was listening to something a little special. This band never really played together for long. They did a few club gigs together, it clicked and they ended up going to the studio one night after hours and recorded this thing almost in one take.
Jack's guitar playing is really something. He has a style with great runs and different improvs and a way with chords and strums and swing and he creates a wonderful atmosphere on the guitar. Here is a link to a short interview with him.
The music world is extremely competitive and you have to be so good to make it to the top. Plus you need some luck. There is no reason why Jack Wilkins should be less famous than Grant Green or Jim Hall for example, but sometimes that's how things go. For us listeners that means you can 'discover' an artist who is out of the mainstream and be pleasantly surprised at what you find. As a tip, seek out that second album as well because it's very good indeed.
YOUTUBE LINK
You can listen to the entire LP on youtube when you search for the CD compilation of both albums, also called Merge. Here is the first track of side 2 of Merge LP under review here, so you get an idea.
RAW MUSIC STORE
The album is available on the RAW Music Store website for only 50 AED. Don't tell the Raw Music guys, but I think this is a bit of a bargain 🙂 It also looks unplayed. I hope someone picks this up because it sounds amazing and even if you like jazz guitar you probably never heard of Jack Wilkins so now you can add him to your list of guitar heroes.
PERSONNEL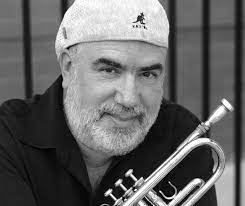 Randy Brecker, flugelhorn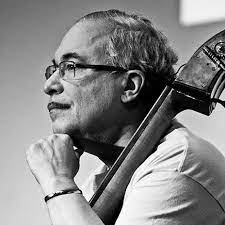 Jack DeJohnette, drums, piano
TRACKS
A1 Fum 7:26 (written by Jack Wilkins)
A2 Papa, Daddy And Me 5:00 (written by Jack DeJohnette)
A3 Brown, Warm & Wintery 4:28 (written by Jack DeJohnette)
B1 Buds 3:11 (written by Randy Brecker)
B2 Falling In Love With Love 10:08 (written by Rogers & Hart)
B3 500 Miles High 6:56 (written by Chick Corea)