LP REVIEW: Part 3 of the art & poetry of the jazz trio, with Kenny Drew – Kenny Drew Trio With Paul Chambers, Philly Joe Jones (1956)
MILESTONE, SMJ-6037M, MONO, 1974 JAPAN RE-ISSUE
PART OF THE RIVERSIDE ORIGINAL RECORDING SERIES
Original on Riverside Records 1956, RLP 12-224
Manufactured By Victor Musical Industries, Inc.
LABEL

Founded by Orrin Keepnews and Bill Grauer Jr. Riverside played an enormously important role in the jazz world. Riverside headquarters were located in New York, at 553 West 51st Street. Unfortunately, they went bankrupt in July 1964, but what a legacy they left! There is an amazingly complete (and detailed and long 🙂 article by the londonjazzcollector, a site which is always worth a visit.
Riverside is such a historic jazz label – probably best known for showcasing Thelonious Monk, John Coltrane, and Bill Evans. It quickly became one of the most important issuers of modern jazz. Riverside brought these giants as well as Cannonball Adderley and Wes Montgomery to the forefront of American music. The company also recorded albums by Sonny Rollins, Art Blakey, John Lee Hooker, Jimmy Heath, Johnny Griffin, Charlie Byrd, and the Staple Singers, among many many others. So, why does our review record have a Milestone label?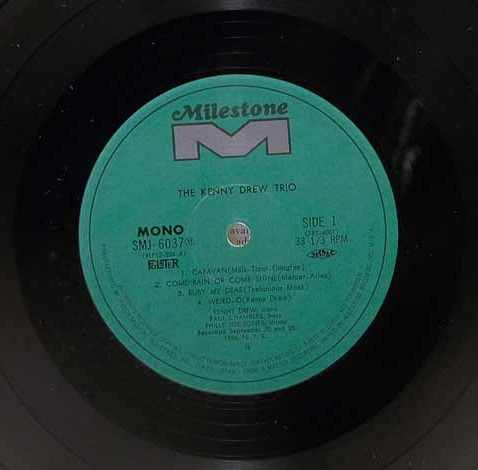 Well … Milestone was also founded by Orrin Keepnews, in 1966 and also in New York. The company survived independently for a while but in the end, was swallowed up by Fantasy Records in 1972 along with Prestige. Our friend the Londonjazzcollector has an entire section on Milestone.
Knowledge Nuggets. Our review record hides three nuggets. Here they are:
/1\ … it sports a so-called Cap Obi. I had to look that up because I never heard of the expression. Normally the Obi – a folded paper flap, similar to the hype sticker – sits on the left side of the record sleeve, but this one sits on top and the album is wearing it like a cap or a hat, hence Cap Obi :-). I wonder how many of you knew this…
/2\ … the Obi sports the Swing Journal of Japan seal of approval. This seal has nothing to do with sound quality but the writers from SJ Magazine tended to compile lists of 'recommended' music and the labels used it for marketing purposes. One of our previously reviewed albums had the same if you may recall.
/3\ … side B contains a tune called Blues for Nica. Nica was a patron of jazz, her full name was Baroness Pannonica de Koenigswarter, aka the Jazz Baroness. You really should watch a short video on youtube. This is a fascinating story, further illuminated by a wonderful interview with Thelonius Monk III, the son of the Thelonius Monk.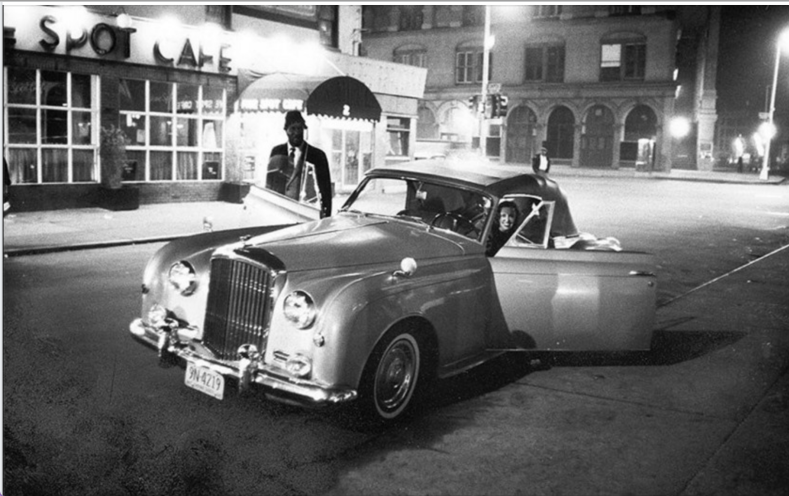 ARTISTS
Kenny Drew was a little bit of a forgotten star, possibly because he permanently moved to Copenhagen in 1964. He recorded with Howard McGhee in 1949 and in the 1950s was featured in sessions with the who's who of jazz, including Charlie Parker, Coleman Hawkins, Lester Young, Milt Jackson, Buddy DeFranco, Dinah Washington, and Buddy Rich.
He made his recorded debut as a leader for Blue Note in 1953 with New Faces, and New Sounds and lead a now-famous quintet for the album called Undercurrent, featuring Freddie Hubbard, Hank Mobley, Sam Jones, and Louis Hayes.
He also appeared as a sideman on several classic Blue Note albums including John Coltrane's Blue Train, Dexter Gordon's Dexter Calling, Grant Green's Sunday Mornin', and Jackie McLean's Bluesnik. Kenny Drew recorded many dates for SteepleChase in the 1970s and remained active up until his death in 1993.
MUSIC
This is the third review in our trio of jazz trio albums. We reviewed Tommy Flanagan (piano) in RPJR#19 and Jim Hall (guitar) in RPJR#20. This record is a wonderful combination of uptempo songs with the occasional ballad. Most of these are familiar jazz standards and normally I am not all too enthusiastic when I see yet another version of Caravan. Duke Ellington first performed this song in 1936 and to me it's somewhat overplayed. Still, there is always something to discover. And if your amp has a mono switch, flick that to the 'on' position for a nice direct and room-filling mono sound.
That's the magic of the jazz trio. And I guess that's how I feel about this album overall. Yes, these are well-known jazz standards but the level of playing here is excellent and the trio format lets you easily discover the detail and the improvisation these players bring to the music. For me, the album's first two tunes are not where it's at. That begins with Ruby, My Dear, a fairly well-known but not overplayed ballad where Kenny Drew really shines with his clever improvs, followed by the wonderfully titled uptempo tune Weird-O which swings like crazy. The entire Blues for Nica backstory concerning the Jazz Baroness lends even more depth to this record.
The entire album can be found on youtube
RAW MUSIC STORE
This Kenny Drew Trio album is available on the RAW Music Store website for a suitably priced 120AED.
PERSONNEL
Paul Chambers – bass. Another legend of the jazz scene. Here are 11 of his 'best' recordings – a somewhat arbitrary notion because he played on more than 100 albums!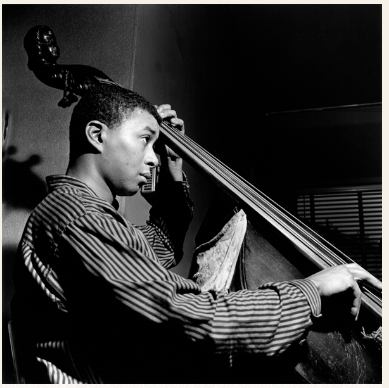 Philly Joe Jones – drums. Will forever be remembered as being part of Miles Davis' Classic Quintet. You can read his bio here.
TRACKS
A1: "Caravan", written by Duke Ellington, Irving Mills, Juan Tizol 4:56
A2: "Come Rain or Come Shine", written by Harold Arlen, Johnny Mercer 6:08
A3: "Ruby, My Dear", written by Thelonious Monk 5:46
A4: "Weird-O", written by Hank Mobley 4:04
B1: "Taking A Chance On Love", written by Vernon Duke, John Latouche, Ted Fetter 4:42
B2: "When You Wish Upon a Star", written by Leigh Harline, Ned Washington 5:19.
B3: "Blues for Nica", written by Kenny Drew 5:31.
B4: "It's Only a Paper Moon", written by Harold Arlen, E. Y. "Yip" Harburg, Billy Rose 6:25