Empyrean is the product of two passionate companies coming together to explore what is possible beyond their individual capabilities. The result is a no-compromise headphone embodying Meze's daring aesthetic and user-centered design approach and Rinaro's experience in research and development within the field of planar magnetics.
Rinaro, a progressive audio company, has at the heart of its technology an R&D team that has been at the forefront of planar magnetic development since the 1980's. What originally started as a state-funded initiative with a focus on innovation has now entered into a new chapter of audio progression with the opening of a cutting-edge industrial facility in Ukraine.
ARCHITECTURE OF THE ISODYNAMIC® HYBRID ARRAY DRIVER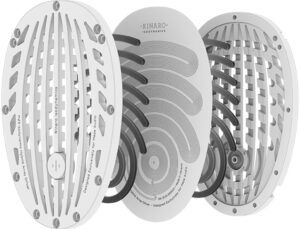 FRAME
Fiberglass infused ABS
HYBRID MAGNET ARRAY
Symmetrically placed on each side of the diaphragm, our neodymium magnets are specifically arranged into a Hybrid Array to create efficient Isodynamic magnetic field required for a uniform activation across the whole diaphragm surface.
RINARO ISOPLANAR® DIAPHRAGM
Weighing only 0.16 g while
having 4650 mm² of active area.
HYBRID ARRAY DRIVER ADVANTAGES
Combines two independently shaped voice coils within the same diaphragm delivering more selective acoustic performance to the various areas within the structure of the ear.
The Empyrean Driver combines individual switchback and spiral-shaped voice coils, their unique shapes allowing sound to be targeted with more accuracy around the natural form of the ear. This unique combination generates an increased exposure of direct sound wave frequencies over the 10kHz range and improves imaging and localization by decreasing the impact of shortwave time delays caused by diffused field reflections.
AUDIBLE BENEFITS OF A DUAL DRIVEN SYSTEM
One of the problems with conventional planar magnetic arrays is coming from reflected signals entering the ear canal with different time delays, thereby worsening the focus of 3D sound imaging.
Combining different voice coil configurations makes it possible to create a better sound intensity distribution across the sound wavefront at high frequencies when directed at the auricle and ear canal.
ISOPLANAR® DIAPHRAGM MATERIAL
The diaphragm is manufactured from a custom developed isotropic thermally stabilized polymer with a conductive layer. Through unique processing methods, an ultralight yet rigid diaphragm has been achieved.
SWITCHBACK COIL
The switchback coil is more efficient at reproducing lower frequencies and is positioned in the upper part of the driver.
SPIRAL COIL
The spiral coil is more efficient at reproducing middle-high frequencies and is positioned directly over the ear canal enabling more direct sound waves to enter the ear without any time delays.
AN ERGONOMIC APPROACH LEADS TO A NEW WAY OF THINKING
To create an audiophile headphone that is powerful yet light the driver needed to maximize power output while reducing weight as much as possible.
Weight was minimized by optimizing a magnet structure around an ovoid shape that fits the ear more closely. Power output was increased through the use of a completely bespoke coil and magnet array design that optimized the active usable area of the driver within its ovoid shape.
ISOMAGNETIC® EARCUP TO EARPAD COUPLING TECHNOLOGY
An innovative feature is the Isomagnetic® ear cup attachment which utilizes the demagnetizing field generated by the driver to hold the ear cup in place whilst also redirecting the magnetic field back into the driver and improving driver efficiency.
STRAY FIELD REDUCTION FROM ISOMAGNETIC® PLATE COUPLING
Patented ferromagnetic plates channel the demagnetizing field back into the driver increasing efficiency by 1db or 12% and deflect 95% of stray fields away from the head.
ISODYNAMIC DRIVER MANUFACTURED BY RINARO
Each driver has been hand assembled and tested in an industrial facility in Ukraine.
PRESSURE DISTRIBUTION WINGS
Suspension wings increase the leather headrest's contact surface area with your head and relieve uncomfortable pressure points, offering additional comfort, even when used for a longer period of time.
This revolutionary patent pending concept sets a new standard in combining
true natural sound with the enjoyment of wearing
your favorite headphone for hours on end.
ACCESSORIES
Case: High-strength aluminum suitcase with foam inserts
Two sets of earpads included: one real leather, one Alcantara
Cable options:
– 2.5m OFC cable, 4pin mini XLR plugs ending with 6.3 jack connector
or
– 1.2m OFC cable, 4pin mini XLR plugs ending with 3.5 jack connector
or
– 2.5m OFC cable, 4pin mini XLR plugs ending with 4 pin XLR connector